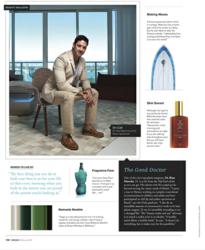 Miami Beach, Florida (PRWEB) February 29, 2012
Dr. Rian Maercks, one of the top Miami Beach Cosmetic Surgeons working today, is pleased to announce his recent appearance in Miami Magazine. Dr. Maercks is a pre-eminent South Beach plastic surgeon who specializes in providing his patients with holistic cosmetic surgery enhancement and rejuvenation.
His appearance in Miami Magazine marks the most recent press mention for the influential Miami doctor. Miami Magazine provides its readers with a variety of enlightening articles on topics as varied as lifestyles and fine dining in the luxurious vacation destination known as the glamour capital of the world. With its exciting profiles of glamorous Miami Beach, Miami Magazine is a hot trend-setter for residents and visitors alike.
Dr. Rian Maercks offers his patients special techniques and innovations such as the Maercks-Lift and the FEMMA-S breast augmentation. His naturalistic philosophy of beauty provides patients of all age groups with subtle beauty and enhancement that transcends the traditional and stereotypical notions of "cosmetic surgery"
Dr. Rian Maercks also offers corrective cosmetic surgery for patients who would like adjustments to their previous procedures. Providing face lifts, breast augmentation, and other forms of innovative and beautifying procedures, Dr. Maercks is one of South Florida's most promising and innovative plastic surgeons.
To learn more about Dr. Rian Maercks, his cosmetic surgery practice, and his press mentions, visit his official website at rianmaerdsmd.com or follow him on twitter and facebook.
###