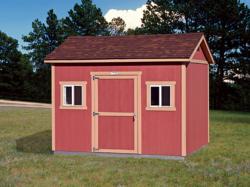 Denver, CO (PRWEB) May 24, 2012
TUFF SHED, Inc., America's leading supplier of installed storage buildings and garages, has opened a new retail sales lot location in Richland, Miss.
The new sales lot in Richland is located at 1454 Highway 49 South, approximately ten miles south of downtown Jackson. The new location has excellent highway frontage and has been established to better serve TUFF SHED customers south of the city. The half-acre lot features a variety of display models including the innovative PRO series of buildings, which is TUFF SHED's top of the line offering and was named a Best Buy by a leading consumer product review magazine.
Buildings sold at this location are fabricated out of TUFF SHED's manufacturing facility, located 20 miles north of downtown Jackson. The new sales location gives TUFF SHED, which has been serving customers in the Jackson area since 2004, a larger presence locally. Besides the company-owned factory and new sales lot, TUFF SHED products are available at five area Revell Ace Hardware stores, plus at Bilt Rite in Brookhaven.
Continuing on its recent growth curve, the Richland showroom is one of six new retail TUFF SHED sites opened since the beginning of this year. The new location is expected to help fuel additional growth for TUFF SHED, with the company projecting sales of $117 million for 2012.
Founded in 1981, TUFF SHED is based in Denver, Colorado, and has 43 company-owned manufacturing facilities and roughly 800 employees providing local service to customers around the country. The company has a longstanding tradition of providing premium products and outstanding customer service. All TUFF SHED buildings include on-site delivery and installation, plus industry-leading warranty coverage. To view an assortment of innovatively engineered TUFF SHED buildings, visit http://www.tuffshed.com.