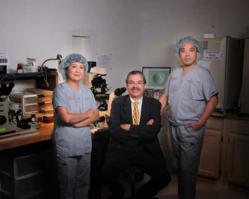 Couples that are both carriers (for a genetic disease) have a 1 in 4 chance of having a baby with the active disease.
McAllen, TX (PRWEB) September 25, 2012
When a couple decides to start a family, they usually wonder about whether their kids will inherit the same eye color, height or nearsightedness. People rarely consider whether they will pass inheritable diseases such as cystic fibrosis (CF) or sickle cell anemia on to their children. Dr. Esteban Brown, founder of Reproductive Institute of South Texas, is partnering with Natera, a pioneer in pre-conception genetic screening for cystic fibrosis, sickle cell and other diseases.
Dr. Brown explained the significance of this testing: "Couples that are both carriers have a 1 in 4 chance of having a baby with the active disease. With cystic fibrosis, for example, 1 in 25 Caucasians, 1 in 46 Hispanics and 1 in 61 African Americans carry the gene for CF. An estimated 1 in 12 African Americans have the sickle cell trait."
Because Dr. Brown is committed to helping his patients achieve successful pregnancies that result in healthy babies, Reproductive Institute of South Texas is offering one free in-vitro fertilization (IVF) cycle with preimplantation genetic diagnosis (PGD)* to couples that both test positive with the Natera One™ preconception test for carrier traits that could result in an inheritable disease for the affected child.
"Advanced technology such as preimplantation genetic diagnosis (PGD) allows us to screen the embryos before the transfer," explained Dr. Brown. "Any couples that could pass these serious illnesses on can rest easy knowing that their children won't struggle with that kind of burden."
Through the Natera One™ test, Dr. Brown can determine whether two partners possess one or more gene mutations in common that could put them at risk of having children with a particular genetic disorder.
"Usually, carriers have no symptoms, so they may not realize they have the gene for a certain disease," said Dr. Brown. "Certain illnesses only occur when both parents are carriers for the same condition and both individuals pass on the mutation to their offspring."
In the past, most parents didn't realize they carried these defective genes until they had a child with the active disease.
"The Natera screening gives any couples that have a family history of CF or other inherited diseases, as well as those concerned about such conditions, the opportunity to have a basic blood test that will analyze genetic makeup and identify risks for passing potential illnesses to their children," Dr. Brown said.

About the Doctor:
Esteban Ortega Brown, MD began his career by attending prestigious Stanford University, receiving his Bachelor's degree in Economics in 1979. He continued his education in medicine from 1979 to 1984 at Baylor College of Medicine in Houston, Texas where he earned his MD. Between 1984 and 1988, he completed his internship and residency at the University of Texas Medical Branch in Galveston, Texas with a specialty in Obstetrics and Gynecology. Dr. Brown received sub-specialty training in Reproductive Endocrinology at the University of Pennsylvania in Philadelphia from 1988-1991. Dr. Brown's specialization in male as well as female fertility issues is complemented by his sensitive approach toward the unique difficulties men face when confronting their fertility issues.
For more information about the Reproductive Institute of South Texas visit http://www.conceiveababy.com