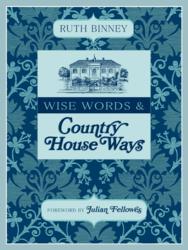 The great house was a kingdom in itself. This is the world that Ruth Binney has brought so wonderfully to life.

Jullian Fellowes
(PRWEB UK) 28 August 2012
Discover the rules of etiquette and manners that existed both 'upstairs' and 'downstairs', the daily routines of servants, bygone housekeeping maxims for everyone from the scullery maid to the gardener, and learn how to prepare for a grand ball.
The size and splendour of a county house and its estate were a reflection of the status and ambition of its owner, and the whole was a world in itself, which if not totally self-sufficient as often nearly so. The intricate way in which the country house worked is reflected in the six chapters of this book, beginning with 'Keeping House' and progressing to 'The Daily Routine' and 'The Country House Kitchen'. Since correct behaviour was so important to all activities of the house, 'A Matter of Manners' addresses the essentials of etiquette, a theme that also extends into 'Leisure, Entertainment and Sport'. Finally 'Garden and Grounds' focuses on everything from the cultivation of exotic fruit for the table to brewing and the care of horses and other animals.
With a forward by Julian Fellowes, creator of the much-loved Downton Abbey, Wise Words and Country House Ways will be fascinating for anyone who has wondered what it would be like to be served, or in service in a grand country house.
Ruth Binney has been collecting old sayings, wisdom and traditional remedies relating to country matters of all kinds for over 50 years. She holds a degree in Natural Sciences from Cambridge University and has been involved in countless publications during her career. http://www.ruthbinney.com
Notes:
Wise Words and Country House Ways by Ruth Binney is published by David and Charles on 31st August 2012. ISBN 978-1446302187, RRP £9.99.
For further information, including extracts, or to interview Ruth, please contact Sandra Gilmore on 01626 323293 sandra.gilmore(at)fwmedia(dot)com
F&W Media International is an award-winning publisher and distributor of illustrated non-fiction books on a wide range of topics including history, hobby, craft and photography. The company publishes and distributes more than 100 titles a year for David & Charles, Dover, White Star, Reader's Digest and other imprints. http://www.fwmedia.co.uk