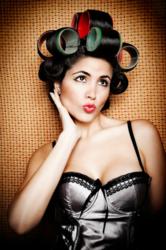 We offer a unique targeted way to attract new clients in a way that does not strip the value of your brand.
Sydney, Australia (PRWEB) May 25, 2012
Combination online salon directory and group buying community SalonSeeker.com.au is at the forefront of a campaign to save the hair and beauty industry from the grips of daily deals sites. A recently released video explains why it would be beneficial for salon owners to list their salons in the SalonSeeker.com.au directory.
Salon and beauty deals are actually among the most popular offers in the plethora of daily deals sites on the Web. Reports from various sources are indicating that the days of such places online are numbered as the participating businesses realise how impractical and possibly detrimental to their bottom line it is to offer huge discounts in bulk. The hair and beauty industry is seemingly already feeling the pain. This has certainly been the consensus gathered by the SalonSeeker.com.au's research team.
"We recently set to the streets and asked hair and beauty salon owners what their greatest concerns were in the current market," relates Caroline Balinska of SalonSeeker.com.au. "The response was that the daily deals sites were ruining the industry."
SalonSeeker.com.au certainly agrees and thinks that a change is in order. Hair salon owners should be able to grow their business to be as profitable as possible. They should not have to succumb to an unhealthy discounting system and then afterwards have to provide a massive amount of service in a short period of time. In the same vein, they should not have to spend thousands of dollars to list their business on a website with uncertain results.
Ms. Balinska continues, "So based on what you've told us, we've provided a solution." According to her, what the hair and beauty industry needs is a high end salon directory where locals can find you and you should not have to pay for this. Enter SalonSeeker.com.au.
The video explains in detail the advantages of listing a salon on SalonSeeker.com.au. It talks about the total freedom offered by the website. Hair salons can run an incentive deal if they so wish and have total control over details such as the discount amount, the number of deals, etc. "Salon Seeker offers your full page customizable profile with images, prices, website and much more completely free," asserts the video. "We offer a unique targeted way to attract new clients in a way that does not strip the value of your brand."
On the same page where the video is posted are a rundown of the benefits of using the Salon Seeker website and a concise explanation of how the deals work. Such a service is certainly a welcome change to the setup of common deals sites.
"We're passionate about helping you grow at a manageable pace and restoring value to the industry," Ms. Balinska assures salon owners.