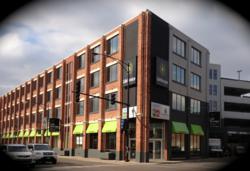 Chicago, IL (PRWEB) November 27, 2012
LifeStorage, Chicago self storage provider for home and business is helping with the Sandy relief efforts by aiding local writer, filmmaker, and entrepreneur, Ashbey Riley, founder of Bum Bul Bee Photo and Films, with a donation drive that started on Tuesday, November, 13th and ends on Thursday, November 29th. Riley is spearheading her own relief effort by helping raise much-needed supplies in response to what's become one of the more harrowing natural disasters in recent memory. When LifeStorage heard of Riley's cause, they immediately offered to help by donating a storage unit at one of the Chicago's locations. If you'd like to help please drop off donations at LifeStorage Lincoln Park- location for all goods donated and by acting as a drop-off location for donations.
The entire process began with a restless sleep, and then a phone call. One night Riley awoke and realized she wanted to help – she's a former Manhattanite – and decided she was going to make a difference. After calling a New York shelter, she discovered one of the most needed supplies is tampons, and the effort began from there. It started as a simple phone call and has blossomed into a relief effort. Now Riley is looking for donations of tampons, blankets, deodorant, toothpaste, soap, pet supplies...the list goes on and on.
With the framework in place, then came the help from the business community. Local businesses offered to act as drop-off locations, Penske donated a truck for use, Pinnacle packing provided boxes, ZipCar provided a van for pickups, and as mentioned, LifeStorage provided a storage unit at its Lincoln Park location. Overall, it's a combination of Riley's determination to help, and the recognition by the business community of just how serious and important this effort is.
"We're always willing to lend a helping hand, hosting a variety of charity drives and events ourselves," said Michelle Wight, Director of Operations for LifeStorage. "In this instance, Ashbey already had a the momentum and plan in place, so we wanted to help out however we could. As a storage company, donating a storage unit seemed appropriate and we're hoping by Thursday we have a full unit. It's rewarding to be able to help out beyond the city of Chicago and we thank Ashbey for her efforts."
For more information on these relief efforts, including a full list of needed items, please visit http://bumbulbee.com/sandyrelief/.
To learn more about LifeStorage and its services, or to find a location near you, please visit: http://www.lifestorage.net/