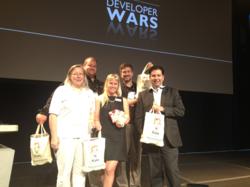 They thought beyond our technical needs by considering all the components unique to a non-profit.
ATLANTA, GA (PRWEB) October 03, 2012
With intellect, insight and enthusiasm Decision First Technologies (DFT) participated in the first annual America's SAP Users' Group (ASUG) Developer Wars benefiting Second Harvest Food Bank of Central Florida; a private non-profit organization that collects, stores and distributes food to more than 500 partner agencies throughout Central Florida.
DFT engineers accepted the challenge Monday September 10th during the 2012 ASUG SAP BusinessObjects User Conference in Orlando, Florida to develop a dashboard of data using SAP BusinessObjects 4.0 Analytics, including Crystal Reports, Dashboards (formerly Xcelsius), SAP Visual Intelligence and SAP Web Intelligence over the course of a single day. The competition ended Tuesday evening with all four teams presenting their version of a customized dashboard for Second Harvest.
The DFT engineering team jumped right in looking not only at the technical needs of Second Harvest, but also at budget constraints, ease of use and document sharing capabilities when building their dashboard. Their program focused on solving the monthly data requirement of Second Harvest in order to discern costs associated with gathering food donations from various stores based on brands, type of foods, weight of food, etc.
"Our team chose to develop a dashboard that includes the use of SAP Dashboards (Xcelsius) and Crystal Reports. The reason for choosing these two tools is that it provides an economical, but very functional and practical solution for the Second Harvest Food Bank to reach their goals," remarks Dell Stinnett, senior DFT consultant and team leader for the Developer Wars.
But DFT went beyond the technology to personally support the cause of the organization. Ernie Phelps, senior DFT consultant, who's volunteered at Second Harvest for more than a year, knew firsthand the financial need faced by the nonprofit and spearheaded DFT's monetary donation of $250 as well as a food donation complete with personalized Second Harvest canvas grocery bags.
"Everyone at Second Harvest greatly appreciated the technical and financial donations made by the Decision First Team," said Kirsten J Langan, product sourcing manager for Second Harvest Food Bank of Central Florida. "They thought beyond our technical needs by considering all the components unique to a non-profit. Then, their inclusion of a monetary and food donation really made them stand out."
About Decision First Technologies
Decision First Technologies is an Atlanta-based software provider and professional services company specializing in delivering end-to-end business intelligence solutions to its customers. An SAP gold channel partner, DFT resells and offers certified consulting and training for SAP BusinessObjects solutions. With over 10 years of experience, DFT has helped hundreds of companies make better business decisions, dramatically reducing costs, increasing revenues and boosting profits. For more information on Decision First, visit http://www.decisionfirst.com/