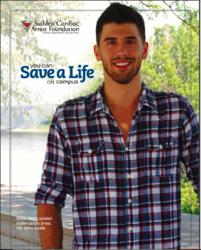 I just can't believe what they did for me. They literally gave me the gift of life. -- Walter Watts, 21
Pittsburgh, PA (PRWEB) November 01, 2012
To help save lives threatened by sudden cardiac arrest (SCA), the nonprofit Sudden Cardiac Arrest Foundation has launched a new educational campaign, You Can Save a Life on Campus™, which aims to raise awareness about sudden cardiac arrest among students, parents, administrators, faculty, athletic trainers, coaches, and other stakeholders at the nation's colleges and universities.
Sudden cardiac arrest, an unexpected pulseless condition often triggered by previously undetected heart abnormalities, strikes more than 1,000 people outside hospitals each day in the U.S. and few victims survive. Since college campuses are microcosms of the community at large, the risk of sudden death in higher education settings is just as pervasive. Many more SCA victims could survive if they were treated quickly by bystanders with CPR and layperson-friendly automated external defibrillators (AEDs).
The campaign, You Can Save a Life on Campus™, features stories of survival in higher education settings, including that of Walter Watts, a 21-year-old saved earlier this year by fellow students at the College of the Ozarks. It also features emergency action plans spearheaded by Ron Courson of the University of Georgia and adopted by the National Athletic Trainers' Association; why legal liability concerns should propel colleges to implement SCA emergency response programs; model programs at Harvard University, the Maricopa County Community Colleges, and Penn State; the importance of heart screening; the legacy of U.S. Military Academy women's basketball coach, Maggie Dixon; and dealing with the psychological aftermath that follows survival from sudden cardiac arrest. The educational initiative includes a 20-page booklet, a companion website, and social media outreach.
The Sudden Cardiac Arrest Foundation challenges visionary thought leaders to prevent death and disability from SCA among students, staff, and visitors on campus. This includes ensuring that students are well-trained in CPR-AED skills and that AEDs are strategically placed throughout campus and with athletic teams. Students, parents, and other college stakeholders are urged to learn more by going to http://www.sca-aware.org/campus for information and resources, following ongoing developments on Facebook and Twitter, and learning CPR and how to use an AED. College leaders are encouraged to share their experiences by joining the Sudden Cardiac Arrest Network, an online community for survivors and other champions, and posting information about their initiatives and progress.
Print copies of You Can Save a Life on Campus™ may be ordered by contacting info(at)sca-aware(dot)org. The publication is also available for downloading at http://www.sca-aware.org/campus.
The Sudden Cardiac Arrest Foundation thanks campaign underwriters Philips Healthcare, St. Jude Medical Foundation, and Zoll Medical Corporation; the Journal of Emergency Medical Services; School Health; and the following non-profit collaborators: Children's Cardiomyopathy Foundation, Citizen CPR Foundation, Heart Safe Club of Rhinebeck, The Gregory T. Moyer Foundation, John Taylor Babbitt Foundation, Louis J. Acompora Foundation, Maggie Dixon Foundation, Project S.A.V.E. at Children's Healthcare of Atlanta, Nick of Time Foundation, Parent Heart Watch, and Project Adam.
About the Sudden Cardiac Arrest Foundation
The Sudden Cardiac Arrest Foundation is a national community benefit 501(c)(3) organization whose mission is to raise awareness and save lives threatened by sudden cardiac arrest, the nation's leading cause of death. The Foundation is the home of the SCA Survivor Network, an online community that provides peer support and opportunities for survivors to "pay it forward" and help save other lives. The Foundation maintains a national database of survivors and experts available to speak with the media.