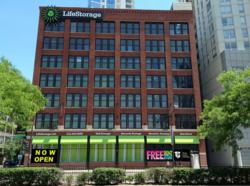 Chicago, IL (PRWEB) August 24, 2012
LifeStorage, Chicago self storage provider for home and business and office solutions, is proud to open the door to its newest Chicago storage location at 333 Ohio Street. After some delays, LifeStorage is ready to bring its unique brand of self-storage to the River North neighborhood with this seven-story, classic-loft location, one that boasts amenities such as a Starbucks coffee bar and fire place in the retail office. On top of this LifeStorage offers forward-thinking self-storage solutions, with climate-controlled units, reasonable prices, digital security, drive-in loading and outstanding customer service. As the 18th Chicagoland store in an already strong family of facilities, LifeStorage River North is in one of the most visible locations and is going to garnish an abundance of attention.
LifeStorage Director of Operations, Michelle Wight, has been eagerly awaiting this opening, and given the location, visibility, and grandeur of this facility, sees this as part of the grand, LifeStorage plan. "Since we started, our business plan has been to provide unique, upscale and affordable self-storage solutions to the communities we serve. With the River North location, we've taken a classic Chicago structure, one that visually, really speaks of the city's approach to architecture, and molded it into one of our most gorgeous facilities yet," Wight said.
"We're successful because of our wonderfully knowledgeable staff and work they put in, solutions we provide, and presence we maintain in the community. Because of our success, we're able to expand at a steadied pace, one that helps us continue to bring LifeStorage to a new audience with each facility launching."
River North facility is expected to fill quickly, but currently there are still prime storage units available in a variety of sizes for rent. Local condo and town home owners, this is the perfect opportunity to take advantage of our new location and store your seasonal stuff.
"We're excited for so many reasons, by foremost is that we're able to offer LifeStorage solutions to a new market area. This is our chance to show a new neighborhood and a new part of the city how LifeStorage handles not just self-storage, but also office solutions, and most importantly, customer service. We're prepared to 'wow' you," Wight said.
"We'll also be celebrating our grand opening with a free rent event promotion to all new customers, plus we're holding a 'Carnival at River North' this September. It's a getting-to-know-us event with facility tours, music, some light fare and tasty beverages. We encourage you to stop by and see what LifeStorage is all about!"