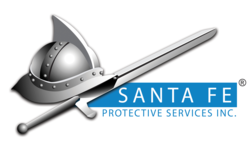 "This is one of the finest Contractor programs that I have ever inspected" said
Auditor for IMCOM
Santa Fe, New Mexico (PRWEB) October 22, 2012
Santa Fe Protective Services Inc. was formed by Christina Maki and her father, Butch Maki to provide superior Guard related services. Through the years the company has remained focused on this core competency while expanding into other markets. In early 2012, Christina and Butch formed a complementary company, Integrated Veteran Services, Inc., (IVS) that brings certification as a Service Disabled, Veteran Owned Small Business (SDVOSB). Since it has shared ownership, past performance of SFPS is transferred to IVS as well.
SFPS has proven that they can rise to the challenge of assuming contracts that are difficult to even start up. As noted by the Department of Army Contract Officer "SFPS continues to provide excellent service during difficult times. During start up they were required to ensure upwards of 138 personnel were fully qualified. They had a short 30 day window to accomplish this and upon full contract performance they were able to start up the contract with every certification required being met. This speaks well of their commitment and attention to detail". In addition an auditor for a recent inspection by the South East region of the Installation Command (IMCOM) stated "This is one of the finest Contractor programs that I have ever inspected". He went on to state that "I have never seen any contractor not have an open post throughout the life of the contract as you have achieved here at Ft. Rucker".
Their pledge to their clients is to perform on the contract without constant oversight by the clients. As their Contract Officer for the National Drug Intelligence Center recently communicated, "Of all of the contracts that we have, this is the most worry free. SFPS has demonstrated the ability to staff each post in a timely and consistent manner and is committed to keeping downtime at zero. This is a testament to the caliber of SFPS's Officers and Managers".
They also provide event staffing for collegiate athletics at the University level and for the US Air Force. Recently the CO had this to say "The Contractor employees are consistently very courteous, very polite and helpful to the patrons. The Contractor is responsive to all government requests and ensures successful performance of all contract requirements. They show a strong security presence at each event and do a fantastic job with crowd control, regardless of the crowd size".
SFPS has been providing security and personnel inspections for the DOE. In this capacity they screen personnel prior to boarding aircraft and provide a security presence, access control and patrols, twenty-four hours a day, each day of the year. The Contract Officer has noted "SFPS offers significant quality for the cost. They have the depth of security officers on their payroll to ensure that the guard schedule is adhered to at all times. The changing of the security guards is seamless to the staff and never disrupts mission requirements. This contractor is rated as exceptional for always being ready to support the flights that occur 24/7 and their attention to duty and excellence".
Headquartered in Santa Fe, NM they have offices in Colorado, Alabama and New Hampshire.