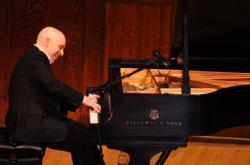 "The Sheldon has been a beloved space for musicians and music lovers for a century. Our music and visual arts programs continue that tradition of enriching the St. Louis region."
St. Louis, MO (PRWEB) August 22, 2012
The Sheldon Concert Hall and Art Galleries is pleased to celebrate its 100th Anniversary Season with special concerts, art exhibitions, publications and artistic outreach, beginning Fall 2012. Click here for a full press kit.
Built as the home of the Ethical Society, The Sheldon opened its doors in 1912, and was instantly heralded for its perfect acoustics. Designed by Louis C. Spiering, speakers such as Thurgood Marshall, Margaret Mead, R. Buckminster Fuller and Martha Gellhorn have spoken from The Sheldon stage, and musicians such as Renée Fleming, B.B. King, Lyle Lovett, Willie Nelson, Wynton Marsalis, k.d. lang, Joan Baez, Audra McDonald and José Carreras have performed in its famed acoustics. The Sheldon now produces over 350 events each year, from concerts and gallery exhibits, to weddings, educational programs and community events.
Paul Reuter, executive director of the Sheldon Arts Foundation, the non-profit organization that runs the Sheldon Concert Hall and Art Galleries, says, "The Sheldon has been a beloved space for musicians and music lovers for a century. Our music and visual arts programs continue that tradition of enriching the St. Louis region."
Highlights of the Anniversary Season include:

100th Anniversary Celebration Concert, Thursday, October 11 at 8 p.m.
featuring Peter Martin, Christine Brewer, Branford Marsalis, Christian McBride, Ulysses Owens, David Halen and members of the St. Louis Symphony
Peter Martin presents the world premiere of "This Present Past," a commissioned composition by the internationally-known pianist. Based on a poem by the late Howard Nemerov, a two-term U.S. poet laureate, the piece will be performed by an all-star line-up. Peter Martin is an acclaimed jazz pianist, composer, arranger and educator with a career that has taken him to six continents, as well as to two performances at the White House in the past two years. Martin has long served as music director for jazz singer Dianne Reeves.
Anniversary-level tickets are $100, $250 and $500 including preferred seating, post-concert birthday party and a tax deduction. Call The Sheldon at 314-533-9900. Concert-only tickets are $50 (remaining orchestra and front balcony) and $25 (rear balcony) and are available beginning August 11 through MetroTix at 314-534-1111 or online at http://www.TheSheldon.org.
For a complete concert schedule, visit http://thesheldon.org/calendar.asp.
Al Hirschfeld's Jazz and Broadway Scrapbook, September 7, 2012 – January 5, 2013
The largest retrospective of the artist to be mounted in his hometown, the exhibition features more than 100 original drawings, paintings, prints, collages, posters and ephemera from Hirschfeld's long and important career, and reveals a heretofore unexplored, lifelong fascination with jazz. A rich panoply of some of his most iconic works are included, among them portraits of Carol Channing, Laurel and Hardy, Jelly Roll Morton, Louis Armstrong and Duke Ellington, as well items from his home, including his custom stereo system, a selection from his extensive jazz record collection, African drums used by the great dancer Katherine Dunham, and Balinese shadow puppets. The exhibition is made possible by Mary Strauss and Terry and Sally Schnuck.
For a complete Fall 2012 Gallery listing, visit: http://thesheldon.org/pr/2012/PR120810-1.pdf.
"The Sheldon Music-To-Go" Presented by PNC Arts Alive
Thanks to a generous grant from PNC Arts Alive, "Music-To-Go" will create an opportunity for The Sheldon to reach out to the community, with top St. Louis-area musicians performing in outdoor plazas, public parks, community centers and fairs, college student centers and other public spaces throughout the St. Louis area. These "pop-up" concerts will take place in September and October 2012, in conjunction with the kick-off of The Sheldon's 100th Anniversary season.
100 Photographs Exhibition and Book
Experience a year in the life of The Sheldon through photographs, taken throughout the 2011-2012 season. St. Louis-based photographers Ray Marklin, Jennifer Silverberg, Katie Sanker and Odell Mitchell capture the magic of The Sheldon's many moments, large and small. The images will be featured in an exhibition, and a coffee-table book that details the history of The Sheldon, with essays by Carol Porter, Robert Duffy and Dr. John Wright. The exhibition will be on view in Winter/Spring 2012-2013.
The Sheldon Concert Hall 2012-2013 season features top musicians including Rosanne Cash, Mary Chapin Carpenter, Arturo Sandoval, Dianne Reeves, Marty Stuart and His Fabulous Superlatives, Janis Ian and Livingston Taylor, David Halen, Denise Thimes and Bucky Pizzarelli and Ricky Skaggs and Kentucky Thunder.
In the heart of St. Louis' Grand Center arts district, The Sheldon offers the St. Louis area a wealth of cultural resources in the tradition of its visionary founders. A non-profit organization, The Sheldon relies on public support to carry out its mission: to preserve and operate the historic Sheldon Concert Hall and Art Galleries as an independent cultural institution, to produce and present events of both local and national importance, and to provide facilities and services for a wide variety of cultural, educational, artistic and community organizations.
# # #