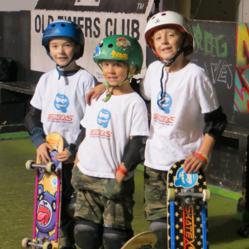 SkateXS brings emphasis on safety, performance and the environment to youth skateboarding
Wauwatosa, WI (PRWEB) November 26, 2012
SkateXS has launched the premier online site and shop for skateboards and skateboarding equipment for kids aged 5-10. With a flagship line of SkateXS brand skateboards specifically sized for younger skaters, parents can finally choose a high quality environmentally friendly skateboard actually built to fit their child. The site features the Parent's Guide to Skateboarding which includes information and tips relating to Safety, Equipment, Skating Basics, and Terminology. SkateXS's top safety tips include skating only in designated skateboard areas, always wearing protective gear including helmets, and having a correctly sized board with high quality components.
The idea behind SkateXS comes from parents of real skaters frustrated with the difficulty of finding high quality boards in kid friendly sizes. SkateXS turned to Bamboo Skateboards out of Oceanside, CA to develop sustainable, lightweight and highly responsive bamboo boards specifically for kids. The online shop at SkateXS allows parents to easily customize elements of their board including colorful grip tape and multiple wheel choices. All components are high quality name brand parts that far exceed the quality typically found on toy skateboards marketed for younger children.
The fledgling SkateXS skate team has outdone itself in promoting the benefits of skateboarding as a healthy activity that helps kids with balance, coordination and stamina. 6 year old skate prodigy Leif Trasser took 1st place in over a dozen competitions through the summer of 2012 and took #1 spot in the Minnesota Summer Series. Leif has assured his spot in the King of the Groms championships for the 2nd year in row by qualifying in 2nd place (Bowl) and 5th place (Mini-Ramp) at the Minnesota stop. 9 year old phenom Owen Liban skated his SkateXS board to #1 in the finals at the Optimist Skateboard Competition in Wisconsin. River Trasser and Zyler Tracey have each earned multiple awards in competition and regularly share their experiences with other young skaters interested in skating in competition or just for fun.
The new SkateXS shop is online at http://www.skatexs.com/ and boards are available now to ship just in time for the Holidays.
About SkateXS:
SkateXS, LLC is the leading provider of high quality and environmentally friendly performance skateboards specifically for kids age 5-10. The home of the Parent's Guide to SkateBoarding, the SkateXS shop is built with parent's of young skaters in mind. More information is available by visiting http://www.skatexs.com/ .