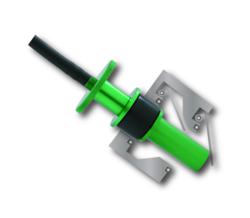 It saves money and waste by never needing costly, messy throw-away seals
Huntington Beach, CA (PRWEB) October 29, 2012
The reusable Smoke Wizard Pop-it Capless Adapter (GLD052) fits the new double-door capless fuel necks. Simply pop it on, twist to seal, and connect any leak detection device to test the system. It's perfect for EVAP tests, especially pressure/vacuum decay and smoke testing.
It saves money and waste by never needing costly, messy throw-away seals. The durable Pop-it Capless, made of fuel-resistant substrates, is backed by a five-year warranty.
Smoke Wizard is officially introducing its new GLD052 Adapter to the U.S. market at the Automotive Aftermarket Products Expo (AAPEX), being held Oct. 30 through Nov. 1, at the Sands Expo Center in Las Vegas at Booth 868.
Global Leak Detection, the Smoke Wizard manufacturer, is one of the oldest, most experienced OEM smoke machine manufacturers, serving Audi, Jaguar, Kia, Land Rover, Mazda, VW, and other automakers.
More at http://www.SmokeWizard.com.