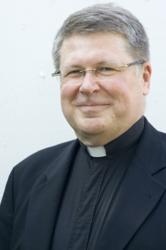 Awarding the prestigious Washington Theological Union Sophia Award has been lifted to new heights with the selection of Rev. Joncas
Washington, DC (PRWEB) January 22, 2012
Washington Theological Union (WTU) announced today that Reverend Jan Michael Joncas, prolific composer and Associate Professor of Catholic Studies at the University of St. Thomas in St. Paul, MN, has been chosen as its 2012 Sophia Award recipient. The Sophia Award is one of the highest honors WTU grants to a scholar whose work defines national excellence in theological scholarship contributing to the ministry of the Catholic Church. Rev. Joncas will be honored at the 16th Sophia Award and Lecture at Washington Theological Union in Washington, DC on Sunday, February 12, 2012.
"Awarding the prestigious Washington Theological Union Sophia Award has been lifted to new heights with the selection of Rev. Joncas," said Anne E. McLaughlin, RSM, D.Min., Acting Academic Dean of WTU. "A highly productive academic scholar and gifted musician, he continues to disclose the riches of the liturgical tradition in ever new and creative ways."
Rev. Joncas, a priest of the Archdiocese of St. Paul-Minneapolis, MN, and composer of some of the most recognizable church hymns, has also served as a parochial vicar, a campus minister, and a parochial administrator. He is the author of three books and over two hundred articles and reviews in journals such as Worship, Ecclesia Orans, and Questions Liturgiques. He has composed and arranged over three hundred pieces of liturgical music, including the devotional song, On Eagles' Wings.
Past WTU Sophia Award recipients include Rev. Michael J. Scanlon, O.S.A., Villanova University (2011), Rev. Donald Senior, C.P., S.T.D., Catholic Theological Union (2010), and Elizabeth Johnson, CSJ, Ph.D., Fordham University (2009). The 2012 Sophia Award presentation will be followed by a free lecture, open to the general public, by Rev. Joncas, entitled "Heaven's Harmonies in Human Habitats: Composing for the Church."
###