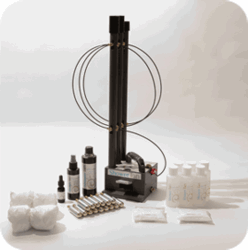 The luxury of having the convenience and confidence of this system is going to change how people tan.
Sarasota, FL (PRWEB) May 08, 2012
Spray Tan Tips announces the launch of an at home spray tanning system. Spray Tanning at home has now been made into a completely automated and professional system that can be done within the privacy of consumers bathrooms.
Courtney Adams, with Click Find Get Inc. noted, "We are extremely proud and excited to bring this revolutionary system to our customers. This new product is going to bring the convenience and safety of spray tanning into the home of our customers. The luxury of having the convenience and confidence of this system is going to change how people tan."
The complete system will spray the entire body uniformly with the revolutionary solution that complements every skin tone with the right amount of balanced colors which prevent any orange appearance. The current system is being developed to offer more than just spray tanning options; these options are aromatherapy, beauty and anti-aging solution dispersion. The spray tanning device has been on the market and available to consumers with a beloved following of customers since 2005.
The machines patented technology sprays the users' body with an ultra-fine mist of the solution for thirty continuous seconds. This replicates the same process that individuals that are familiar with the spray tanning process in salons will recognize. The benefit of choosing to spray at home while still enjoying the same professional results that the salon booths offer are; safety and cleanliness, privacy and convenience. Certain users can expect to see a savings while opting to use the system and spray tan tips that users gain receive.
Users will also notice that the amount of solution that is distributed during the 30 second period will be enough to cover the entire body, regardless of height or weight. The non-electrical powered system is safe and compact enough to fit into a small shower stall. Once the user has completed the tanning and quick clean up, the unit will fold down into a compact and easy to store size.
For more information on the latest in at home tanning equipment, please visit: http://www.spraytantips.net