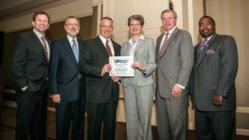 We were excited about the research capacity of the chiropractic profession and this is our way of supporting it.
PALMYRA, Wis. (PRWEB) November 20, 2012
Standard Process Inc. announces it has selected a recipient of its $700,000 research grant. Cheryl Hawk, D.C., Ph.D., director of clinical research for Logan College of Chiropractic/University Programs, and her research team will examine the short- and long-term effects of chiropractic care alone and in combination with nutritional supplements in supporting ligament resiliency.
"Chiropractors are routinely called upon to help support the health of joints and muscles," says Hawk. "My team is excited to begin a trial that will help us better understand the use of chiropractic care and nutrition in cases of severe ligament stress."
The goal of the randomized placebo- controlled trial is to understand the role of nutrition in supporting chiropractic care of the musculoskeletal system. The trial will follow a sample patient population treated at Logan Chiropractic Health Centers and other collaborating clinics throughout Missouri for two years.
Thirteen pre-proposals were received and seven institutions were invited to submit full proposals following Standard Process' research grant announcement during the Association of Chiropractic Colleges and Research Agenda Conference annual meeting held this past March.
"The level of quality of proposals was very high," said David Barnes, Ph.D., director of research and development for Standard Process. "We were excited about the research capacity of the chiropractic profession and this is our way of supporting it." An external group of reviewers with many years of experience in clinical and outcomes research evaluated and ranked the final proposals.
The winning proposal was announced during the Congress of Chiropractic State Association's gala event held earlier this month in Atlanta, Ga.
To learn more about current research and studies happening at Standard Process, visit Standard Process Research and Development.
###
About Logan Chiropractic College/University Programs
Since 1935, Logan College of Chiropractic/University Programs has been preparing students to enter the health care marketplace to become successful doctors of chiropractic. To fulfill individual professional goals, Logan also offers its students, graduates and other professionals a choice of two academic master's programs, offered both online and in an on-campus format, a Master of Science in sports science and rehabilitation, and a Master of Science in nutrition and human performance. Other program offerings include undergraduate coursework including an accelerated science program to help students complete their basic science coursework at an accelerated pace, offered in both online and on-campus formats, and two baccalaureate degrees-a Bachelor of Science degree in human biology and a Bachelor of Science degree in life science.
About Standard Process Inc.
For more than 80 years, Standard Process, headquartered in Palmyra, Wis., has provided high-quality, nutritional whole food supplements through health care professionals. Standard Process offers more than 300 products through three product lines: Standard Process whole food supplements, Standard Process Veterinary Formulas and MediHerb herbal supplements. The products are available only through health care professionals.
Standard Process is involved in every step of production. The company grows crops on company-owned, organically certified farmland, utilizes state-of-the-art manufacturing processes, and employs the highest quality control standards. Standard Process strictly adheres to the Food and Drug Administration's good manufacturing practice requirements. Through these measures, Standard Process can ensure that its products are of the utmost quality and potency. Standard Process was named a Top 100 Workplace in Southeastern Wisconsin and is a member of the Inc. 5000 Honor Roll.
For additional information about Standard Process, visit standardprocess.com.