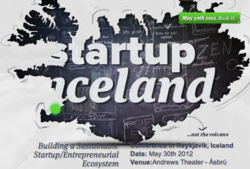 Iceland is small, which allows for faster pivots and enables validation of Minimum Viable Products— unique traits that we intend to use as a case study for other communities during our first ever Startup Iceland Conference, said Founder Bala Kamallakharan
Reykjavik, Iceland (PRWEB) May 14, 2012
The first ever Startup Iceland Conference will launch May 30, 2012 at the Andrews Theater in the Ásbrú Enterprise Park (Keflavik), Iceland. The international event will bring together entrepreneurs, investors and dignitaries from some of the world's hottest startup communities. Iceland has a vibrant startup culture positioned to become an influential contender in the global business market. The Startup Iceland conference endeavors to strengthen Iceland's global influence and create a confluence of global entrepreneurship and business innovation to foster sustainable start-up ecosystems worldwide.
Participants in Startup Iceland will represent startup communities from Iceland, the US, Canada, Europe, the UK, Asia, Scandinavia, South Africa just to name a few. His Excellency, Ólafur Ragnar Grímsson, The President of Iceland, will open the conference with a keynote address. Topics to be discussed at the one-day event include Iceland's entrepreneurial successes and challenges, how to create localized dealmakers to activate successful regional entrepreneurism, the significance of seed funding and determining the best financial opportunities, Boulder Colorado's transition from college town to Startup Tech hub, New York's claim on Silicon Valley's entrepreneurial reign, innovations in energy efficiency and utilizing renewable resources, the new 'Entrepreneurial Renaissance' and leveraging social entrepreneurs to propel brands.
"Iceland is a fantastic place to launch a startup let alone a conference to bring the global startup community together. It has excellent infrastructure, a history of innovation and entrepreneurship, as well as a young, well-educated workforce. Iceland is small, which allows for faster pivots and enables validation of Minimum Viable Products— unique traits that we intend to use as a case study for other communities during our first ever Startup Iceland Conference," said Founder of Startup Iceland and Investor, Bala Kamallakharan.
In addition to the events on May 30th, Startup Iceland participants will have an opportunity to partake in a Hackathon competition on May 29th hosted at Reykjavik University, a caravan symposium with leading startup influencers, team-building adventure excursions and networking receptions.
Startup Iceland speakers include:
Brad Burnham, Founder, Union Square Ventures
Brad Feld, Managing Partner, Foundry Group
Ólafur Ragnar Grímsson, His Excellency, The President of Iceland
Gunnar Hólmsteinn, CEO, CLARA
Eirikur Hrafnsson, CEO, GreenQloud
Rebeca Hwang, CEO, younoodle.com
Hilmar B. Janusson, EVP of R&D, Ossur
Hilmir Ingi Jonsson, CEO, Remake Electric
Rebecca Kantar, Founder & CEO, BrightCo.
Isaac Kato, CFO, Verne Global
Alison MacNeil, CEO, GogoYoko
Hilmar Veigar Pétursson, CEO, CCP
Sarah Prevette, Founder & CEO, Sprouter.com and BetaKit
Rakel Sölvadóttir, Founder, Skema
Helga Valfells, MD, NSA, the New Venture Fund of Iceland
Matt Wilson, Co-founder, Under30CEO
Ted Zoller, Kauffman Foundation Senior Fellow
Startup Iceland is made possible in part by our sponsors Arion Banki, Auromatrix, Auro Investment Partners, Ásbrú Enterprise Park, Icelandair, Icelandic Glacial, Innovit, Kosmos and Kaos, GRE, US Embassy in Reykjavik, NSA, Reykjavik University and more.
About Startup Iceland
The Startup Iceland conference is an annual conference in Iceland where leaders in the global startup community converge to foster solutions for sustainable start-up ecosystems worldwide. Investor Bala Kamallakharan founded Startup Iceland in 2012 to showcase the vibrant entrepreneurial community in Iceland and encourage the development of an influential global startup network. For more information, please visit StartupIceland.com.