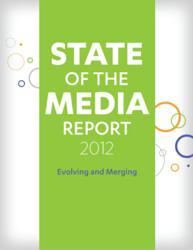 As well as providing detailed industry intelligence, the report will help communicators work better with reporters, build relationships via social media, and understand the latest newsroom practices.
Beltsville, MD (PRWEB) January 23, 2012
Vocus, Inc. (NASDAQ: VOCS) a leading provider of on-demand software for public relations management, today released its annual State of the Media Report. The report is an expert study of key media industry trends for 2012 and is compiled by the Vocus Media Research Team.
Titled "Evolving and Merging", the report finds the industry in a state of rapid transformation as forward-thinking media outlets experiment with new, digitally-enabled models of delivering content.
"The report paints an exciting picture of change," says Katrina Mendolera, the report's author. "Newspapers are adapting to the paywall model. Magazines are developing tablet-first editions. TV news networks are using the Web to engage viewers between broadcasts, and traditional radio stations squaring up to music-streaming interlopers."
Social media continues to shake up the industry, according to the report. As well as forcing reporters to be more vigilant for breaking news (many of 2011's top stories broke via Twitter), it has made journalists responsible for promoting their stories in addition to reporting it. For high-profile journalists, however, social media is good news, with top reporters becoming online brands in their own right.
The report is free to download as a resource for reporters, PR professionals and marketers here: http://www.vocus.com/resources/state-of-media/index.asp
"For PR pros and marketers, no 2012 media strategy is complete without the State of the Media Report," says Cassandra Péan, PR Manager at Vocus. "As well as providing detailed industry intelligence, the report will help communicators work better with reporters, build relationships via social media, and understand the latest newsroom practices."
The team will be discussing the Report in a free webinar at 2:00pm EST on Wednesday Jan 25th. Hosted by the report's authors, the event will offer analysis of 2012's key trends followed by a QA session. To register for the webinar, please click here: http://bit.ly/zjRy6b
About Vocus
Vocus (Nasdaq: VOCS) is a leading provider of cloud-based marketing and PR software that helps organizations of all sizes reach and influence buyers across social networks, online and through the media. Vocus provides a software suite for social media marketing, content distribution and public relations to help customers generate awareness and increase sales in today's customer-led buying process. Vocus is used by more than 40,000 organizations worldwide in seven languages. For more information, please visit http://www.vocus.com or call (800) 345-5572.
This release contains "forward-looking" statements that are made pursuant to the Safe Harbor provisions of the Private Securities Litigation Reform Act of 1995. These are statements that are predictive in nature, that depend upon or refer to future events or conditions, or that include words such as "may," "will," "expects," "projects," "anticipates," "estimates," "believes," "intends," "plans," "should," "seeks," and similar expressions. This press release contains forward-looking statements relating to, among other things, Vocus' expectations and assumptions concerning future financial performance. Forward-looking statements involve known and unknown risks and uncertainties that may cause actual future results to differ materially from those projected or contemplated in the forward-looking statements. Forward-looking statements may be significantly impacted by certain risks and uncertainties described in Vocus' filings with the Securities and Exchange Commission.
The risks and uncertainties referred to above include, but are not limited to, risks associated with possible fluctuations in our operating results and rate of growth, our history of operating losses, interruptions or delays in our service or our Web hosting, our business model, breach of our security measures, the emerging market in which we operate, our relatively limited operating history, our ability to hire, retain and motivate our employees and manage our growth, competition, our ability to continue to release and gain customer acceptance of new and improved versions of our service, successful customer deployment and utilization of our services, fluctuations in the number of shares outstanding, our ability to integrate acquisitions, foreign currency exchange rates and interest rates.
###