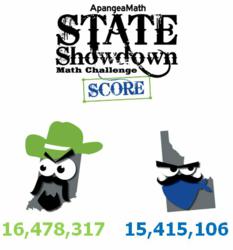 Pittsburgh, PA (PRWEB) March 23, 2012
Apangea Math, a web-based adaptive math solution supporting grades 4 – 12, launched the unique state-duel motivational contest during February for a total of 23 days, producing success on all levels, leaving Indiana as the "Champion" of the State Showdown. Between the two (2) states, Apangea Math worked with nearly 500 schools with over 2,500 classes participating. For the second straight year of the contest, Indiana narrowly beat Idaho, with the victory coming down to the final nights, where Indiana's after school hours pulled them into the top spot.
The mission of this contest was to facilitate out-of-school learning and have the program work as an integral part of a schools solution to drives results in-and-outside of the classroom. During the contest, the students of both states used Apangea Math and took advantage of the anytime, anywhere access resulting in over 59,000 hours of math being worked on during the 23 day contest. Of the 2,586 total classes that competed in the contest completed a total of 132,758 lessons, averaging nearly 6,000 lessons done per day.
Both students and teachers of each state were not just "doing" math, but passing millions of problems, averaging over 99,100 math problems each day. When you add that up, over the duration of the 23-day contest, it adds up to an impressive total of 2,279,417 problems solved!
One of the key features that made this contest so interesting, and a huge success, were the Superintendent's of both states Tom Luna (Idaho) and Dr. Tony Bennett (Indiana). Both of them played an essential part in generating buzz around the contest, with assets like their introductory video teasing one another about what state would win the showdown. At the end, it seemed as though Dr. Bennett was correct in his prediction to prevail and hold onto the trophy for another year with the students and teachers of Indiana staying "on top," as Dr. Bennett said in the video.
Students of Scott LaVelle's seventh hour class, of Westville Middle-High School Indiana and Frank Robinson's 4th grade class, of Collister Elementary School in the Boise School District Idaho, held the highest passing average per student to earn the title of "Most Valuable Class" of their state, beating all other competing classes in Indiana and Idaho. Both of these classes will be presented with an awards ceremony, accompanied by a pizza party with Tom Luna or Dr. Tony Bennett, a congratulatory banner and State Showdown t-shirts. The Indiana championship awards event will be held at Westville Middle School on March 23rd at 12:30 EST. Tom Luna will be out at Collister Elementary on March 21 at 8:30 am MST to present their championship banners.
About Apangea Learning
Apangea Learning (http://www.apangealearning.com) provides one-student-to-one-teacher differentiated instruction through an integration of tutoring technology and live, online certified teachers. With programs based on one of the world's largest bodies of cognitive research conducted by the U.S. Air Force, Apangea has both strong technical resources and a content-development prowess that enables it to harness advanced web technologies and offer innovative instruction techniques. The privately owned company is based in Pittsburgh, PA.