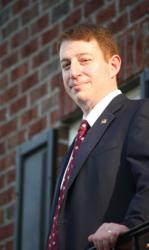 Charleston, SC (PRWEB) March 24, 2012
John Steinberger files for Senate District 41 in SC

Charleston, SC March 24, 2012
Charleston County GOP HQ, 1PM EST
Bring Prosperity to South Carolina
On March 24, 2013, John Steinberger, (R), files to run in a special election to fill the seat vacated by Senator Glenn McConnell. John and his wife Robin reside in West Ashley.
A servant of conservative values, John Steinberger is a decorated Navy Veteran and for the past sixteen years been trusted to educate Lowcountry children at First Baptist School and Palmetto Christian Academy.
Terra Kinder, Mr. Steinbergers Campaign Manager, said, "We have some big shoes to fill in replacing Senator McConnell, but we are confident John is the best man for the job."
The Steinberger for Senate Campaign website is located at http://www.steinbergerforsenate.com. The campaign also maintains a presence on Facebook.
Contact: Terra Kinder
Phone: (843)883-4049
###