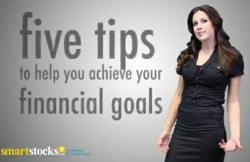 (PRWEB) May 23, 2012
Facebook may have started with students in mind, but now it's all social. A stock market game, Smartstocks.com, adds social features but stays true to investor education identity.
At its core, Smartstocks.com is a stock market simulator. It lets users invest virtual money in real company stocks. The game tracks the value of members' portfolios as real stock prices rise and fall. There is a learning curve with stock investing, but even so Smartstocks.com is on the verge of signing its millionth member.
"Investing in the stock market can feel like swimming with sharks for the inexperienced -- it's risky, but it's exhilarating." said Mike Woolf, Vice President of Smartstocks.com. "The stock market game is like swimming in a cage. You're still in the same water with the same sharks, but you don't have to worry about losing anything."
New social functions set Smartstocks.com apart from other stock market games. As with Facebook, game users can post and read others' comments, add friends, join groups, upload photos and videos, and participate in polls and events. And like Facebook, it's all free.
Unlike Facebook, Smartstocks.com encourages its users to actively learn and practice stock market investing. In addition to the virtual stock exchange, Smartstocks.com provides instruction through a series of short videos focusing on basic investing concepts. As they learn and implement these concepts, they can rise through levels of certification.
Many high school and college business professors have bought into this hands-on teaching approach because it keeps their students engaged.
Woolf said the social media component appeals to young users who would not typically put much stock into learning about investing. Many financial experts believe it's important to start teaching children about finances before money becomes an issue for them.
"It's a good idea to get your children thinking about how their financial actions now can affect them later," said Matt Krantz, financial markets columnist for USA TODAY. "It's probably a good bet that many of the people today who find themselves in a tough spot reaching their financial goals did not receive enough education about the power of saving and investing when they were younger."
With the practical education and social connection Smartstocks.com members gain from playing the game, it seems likely that the second million players will come faster than the first. Go to Smartstocks.com to sign up for a free account.
Smartstocks.com hosts a free to play, live stock market game following actual stocks on the market. The company's goal is to provide education and entertainment for its users, safe from the risks of real money investment.