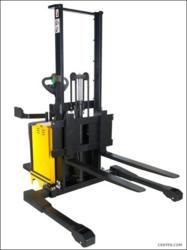 We are happy to have worked out a design, and found the right material handling equipment, to save our customers a considerable amount of money
San Diego, California (PRWEB) August 27, 2012
Warehouses will realize savings by using a new stand-up straddle stacker offered by C&SS, combined with the company's expert design and engineering services. The San Diego-based company, celebrating 20 years of innovation in the storage field, said its engineers and designers have developed an approach to warehousing that enables the same amount of pallets to be stored in as much as 25 percent less space. The straddle stacker, an integral part of the C&SS design, operates on narrower aisles than the standard forklift vehicle.
It means substantial savings for those who are leasing a warehouse. For example, potential lessees who are looking for 10,000 square feet of space to store 1,000 pallets could pack the same amount of material into 7,500 square feet.
In San Diego, for instance, where much warehouse space can be found for about $12 per square foot per year, 10,000 square feet would then cost $120,000 a year, or $360,000 over the course of a three-year lease. With C&SS services and equipment, 7,500 square feet yields a facility with the same storage capacity. At $12 per square foot, the cost of the lease drops annually to $90,000, or $270,000 over three years. That's a savings of $30,000 a year, or $90,000 on a three-year lease, with the same number of pallets packed into a space 25 percent smaller.
"We are happy to have worked out a design, and found the right material handling equipment, to save our customers a considerable amount of money," said Woody Thorp, CEO at C&SS. "Anyone who's about to sign a lease would profit by taking a close look at what we have to offer. We are increasing density and lowering costs, fitting the same volume in less space."
The company said that the features of the modern stackers dispel some commonly-held notions that such vehicles are outmoded and inefficient. The straddle stacker that C&SS incorporates into its design is capable of lifting more than 3,000 pounds as high as eighteen feet or more. This stand-up, man-aboard stacker, built with the latest technology, requires a load-to-load aisle only seven feet wide. Compared to a traditional sit-down rider lift truck, it is priced 25% to 40% less.
Celebrating 20 years of smart, cost-efficient materials handling, Conveyor & Storage Solutions, "The Density People," designs and builds multi-level catwalks and warehouse storage systems. C&SS works to improve logistics and inventory tracking, secures building permits, and distributes and integrates industrial equipment that includes storage and pallet racks, industrial shelving, mezzanines and conveyors. C&SS is guided by the principle that the safety of our customers and its employees comes first.