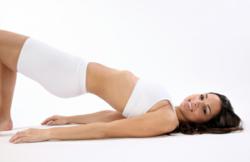 "It's a great complement to my other yoga classes and the rest of my exercise program," student Kym Guerra said. "After a few classes, it helped me gain awareness of how much every move your body makes depends on your core for strength and stability."
Eagan, Minnesota (PRWEB) May 30, 2012
YogaSoul Center in Eagan is now offering shorter classes to help busy people strengthen their body, mind and spirit.
Starting this month, 45-minute Pilates Barre classes are taking place at 8:30 a.m. on Tuesday and Thursday, and at 6:30 a.m. on Saturdays. The YogaAbs class is also 45 minutes and is offered at 8:30 a.m. on Mondays and Fridays.
Student Kym Guerra loves the 45-minute yoga class. "It is one of my favorites. It's a great complement to my other yoga classes and the rest of my exercise program. After a few classes, it helped me gain awareness of how much every move your body makes depends on your core for strength and stability," she said. "It's a nice, short class that uses many different ways to work your core."
YogaSoul instructors offered their top tips for anyone who is busy and looking for a little stress reduction. The following exercises and wisdom can be practiced on a daily basis.
TARISA PARRISH
Kundalini Guru Pranam – Supta Parvatasana
Begin and end your day by sitting on the heels and bringing the forehead to the ground, bending forward lengthening the core of the spine. Bring the arms out in front with the palms together. Stay in this posture with long, deep breathing. Keep the eyes closed and gently rolled up towards the brow point. Relax for three or more minutes in this position, focusing on your breath or your heart beat. Guru Pranam improves functions of the abdominal organs, and increases flexibility in the knees and ankle joints,which helps to prevent arthritis. Practitioners of this posture also find a noticeable increase in lung capacity.
DELLA MCGEE
Long Deep Breathing
One of the simplest yogic breath work techniques to reduce stress is long, deep breathing. Begin by sitting tall with a lengthened spine, and bring your awareness to your breath. Start by slowing filling your belly with breath. The lower belly expands, the upper belly, then the lower rib cage expands, and lastly let the upper rib cage hinge upwards. On the exhale, reverse the order slowly and completely. You can do this anywhere, anytime. Try it for three minutes per day and see what changes happen in your body and your mind.
NICOLE NARDONE
Sitali Pranayama
This quick and easy yogic breathing technique can be done anywhere - at your desk, at a stoplight, anywhere! This breath is done by rolling your tongue up like a taco, inhaling through the rounded tongue, then closing the mouth and exhaling completely through the nose. If you cannot roll the tongue, simply press the tip of the tongue against the back of the teeth and inhale through the sides of the mouth and exhale through the nose. This breath reduces anxiety and stress. It cools you down, so it's especially effective in the summer or in the evening before bed.
DENISE BUNCH
Pyramid Pose – Parsvottanasana
Standing with feet together, step one foot straight back, hands to hips or clasped behind you, fold forward from your hips, keeping the spine straight and long. Breathe deeply. It does not matter how deep you go. Keep your chest open and broad, keeping your balance between your feet. Hold for five breaths, and change sides. This pose stretches the legs and calms the mind. Very cooling for the body and a great posture for perimenopausal or menopausal women.
JILL CAREY
Commit to a daily practice
A daily practice can be as simple as sitting still for five minutes reciting an affirmation such as, "I am a beautiful child of the universe." You can also recite a favorite mantra, such as "so hum" (I am that). Or it can mean moving through three rounds of Sun Salutation A, with full concentration linking each breath with a movement.
"The way we allow stress to manifest itself in our minds, bodies and spirit is often a choice, our choice," Carey said. "Rather than finding ourselves in a constant state of reacting to the situations in our lives that create disease, can we begin to look at the origin? Am I over committing myself and time because I'm afraid of something? Maybe it's letting people down, missing out on an opportunity, not being a team player, or not being unconditionally loved. Do I feel like I am not good enough? Am I comparing my insides with others' outsides? Am I ignoring my individual constitution and my natural cadence? The further we stray from our center the more likely we are to feel joyless, exhausted and irritable. When we continue to dedicate a few minutes each day, day after day, for ourselves, our priorities begin to shift, our life loads begin to ease (because we have chosen that path), our love for ourselves and others grows. That is stress reduction."
YogaSoul's mission is to help clients win the battle against stress. It has an extensive class offering in several styles of yoga, including Kundalini, Hatha, Yin, and Vinyasa. It boasts a fully equipped Pilates studio and offers many kinds of classes, including Zumba, Tai Chi and belly dancing. Its full roster of teachers and healers provide clients with a variety of healing services, including intuitive readings, Reiki, Thai yoga bodywork, Ayurveda, energy work and several others. YogaSoul also hosts special workshops and Kundalini yoga teacher trainings.
To see a full schedule, make an appointment with a healer or sign up for a class, visit YogaSoul's website, http://yogasoul-center.com/. New students get their first week of classes free