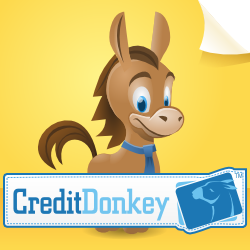 What many young adults don't know is that they may have a credit history already
Los Angeles, CA (PRWEB) April 03, 2012
Saddled with $1 trillion in student loans and the highest unemployment rate since the government began keeping track in 1948, today's college students may be the unluckiest since the 1930s, making it all the more critical that they seek smart ways to build credit, says Charles Tran, founder of the credit card comparison and education site CreditDonkey.com.
Infographic: http://www.creditdonkey.com/build-credit-students.html
"Just 54 percent of adults aged 18 to 24 have jobs, according to a new Pew Research Center study," said Tran. "The Consumer Financial Protection Bureau reports that student loan debt has reached $1 trillion, and is continuing to grow as recent grads struggle to keep up with payments. This twin blast of bad luck is making it harder for young people to establish the reputations they'll need to obtain credit cards, and to qualify for mortgages and car loans."
In response, CreditDonkey.com new educational infographic offers step-by-step instructions for how to build credit for college students. Among the credit-building tips:

Becoming an authorized user on your parents' credit card is becoming an increasingly popular option, especially in the wake of the CARD Act, which requires people under 21 to have a co-signer or proof of their own income to get credit cards. Just be sure that your parents have good credit. If they don't, or they pay the bills late, it could negatively affect your credit.
Consider a secured credit card, which usually requires you to deposit an amount equal to the available credit you'll receive. A bank at which you already have an account is a good place to get a secured card. It isn't an ideal solution, but it's better than no card at all. Once you've established a credit history, contact the bank about getting an unsecured card.
Get a department store credit card. Although they typically charge higher interest rates, if you pay the balance in full each month, you can build a credit history while usually avoiding the extra expense.
"What many young adults don't know is that they may have a credit history already, especially if they've taken out student loans or interacted with some other financial institution," added Tran. One of the first things people should do is visit AnnualCreditReport.com to get a free credit report from each of the three credit reporting agencies."
College students and parents can visit CreditDonkey.com to compare student credit card offers. CreditDonkey.com publishes reviews, deals and tips to help consumers make informed credit decisions. They can search, compare and apply online, finding the best credit cards for their individual needs.