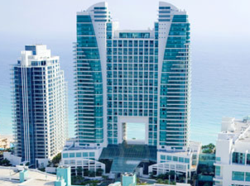 The IPA Family has a true zeal and contagious enthusiasm for the recognition and performance rewards...
Tampa, FL (PRWEB) November 07, 2012
IPA Family, LLC (IPA) and its "Good News Crew" announced a new contest following this year's Presidential election, that will take elite winners to a convention destination resort this next year - The Westin Diplomat Resort & Spa in Hollywood, Florida! The resort video sums up IPA's excitement and focus of the trip. "There is a place on the South East Coast of Florida where creativity inspires blue sky thinking and events shine as brightly as the sun." Several people within the IPA Family who visited this property acknowledged their shared feelings that The Westin Diplomat couldn't be a more perfect setting for their team following the election of our country's President. It also sends a very loud and strong message that IPA Family is excited about the future or their organization and the opportunities that will be available.
IPA's President and COO, Dave Keeler comments, "We have a great competitive advantage of having great products in our organization that are underwritten by our company's carriers. We are also very bullish in our commitment to adhering to any reform laws that are mandated for our products, as well as commitment to continue being innovative for the consumer driven market with products that are not required to meet those mandates. By providing a very diverse portfolio it allows consumers in the marketplace to choose what they desire to maintain affordable coverage within their budget." He goes on to comment, "The IPA Family has a true zeal and contagious enthusiasm for the recognition and performance rewards that it provides to its IPA members and their families. Hard work, dedication, and true performance are the cornerstones for what drives all of our recognition programs, contests and exotic trips. We believe that constant appreciation and consistent gratitude are very important fuel to the ongoing growth and organic expansion of our overall organization."
IPA Family members are rewarded and recognized in many ways including but not limited to the following:
-- Weekly contests and incentives;
-- Weekly IPA Family performance news and recognition;
-- Weekly, Monthly, and Quarterly "Top Performance" Awards; and
-- Exotic trips that include the entire family, spouses and children, driving home that it's about the IPA Family!
Some of their recent destinations consist of:
-- Canadian Cruise
-- Caribbean Cruise
-- Costa Rica
-- New York City
-- Pelican Hill Resort and Spa
-- San Francisco, California
-- Scottsdale, Arizona
-- Tahiti Cruise
"Beautiful trips within the United States and even to exotic destinations outside of the United States is something that attract people to our opportunity," comments Sondra Bradley, National Training Leader. She went on to say, "One of the best things about these trips is the entire family comes and we are able to not only develop life long friendships but also watch children grow up together."
The IPA Family works very hard, and we love to play very hard and enjoy ourselves as well! Additionally, we are very proud of the announcement of this new Super Trip to The Westin Diplomat Resort and Spa as well as a recognition program called IPA EAGLES. The IPA EAGLES epitomizes Extraordinary Agents Growing Leadership Excellence in Sales! Due to IPA's culture of continuous growth, state of the art technology, and market expansions they are currently accepting inquiries for existing and new markets. For more information about IPA Family and the companies it represents, visit http://www.ipafamily.com or contact direct at 813-983-2900 or 1-800-772-8667 and indicate you saw our press release.
About IPA Family, LLC (IPA)
Independent Producers of America is a national marketing organization that distributes major medical insurance plans and other health insurance plans and consumer benefit membership programs across the nation. IPA's trained professional sales associates, referred to as the "IPA Family," provides information and a product portfolio that can meet the needs of most small business owners and self-employed individuals and families. Headquartered in Tampa, Fl., IPA is accredited and has an excellent reputation with the Better Business Bureau (bbb.org) and is a member company of The IHC Group.
We encourage you to visit us on the following social media sites:
Facebook: Simply search Independent Producers of America, LLC (IPA), IPA Family, and IPA Wisdom.
YouTube: TheIPAFamily and IPAWisdom
Twitter: Subscribe to us @IPA_Family and @IPAWisdom