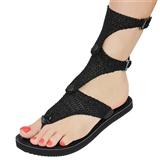 Flutter those wings and fly away with fairynique
Miami, FL (PRWEB) April 19, 2012
According to USAgain more than 8 million tons of shoes and clothing are thrown away each year in the USA alone.
Seems going out, going on vacation or any other occasion warrants a new shoes purchase. When a pair is purchased a pair will be discarded.
Swappableshoes.com offers interchangeable sandals with an array of styles for any fashion forward Earth conscious female.
Styles to fit your budget and your lifestyle.
The Modzori design helps to alleviate clutter in the closet and the environment and are made in the USA.
"Think about how much future generations will benefit," says Dellanique Merigelli, the pint sized VP at Swappableshoes.
Donate old shoes to local charities, send a receipt from that Charity and Swappableshoes.com will take $1.00 off the order for each pair donated(Up to $5 off per order, contact for full details).
"Twenty years from now you will be more disappointed by the things you didn't do than by the ones you did do. So throw off the bowlines, sail away from the safe harbor. Catch the trade winds in your sails. Explore. Dream. Discover." Mark Twain
A Total Experience Travel has specialized for 8 years in the Elite Island Resorts Collection of Certified Green Globe Resorts located in the Eastern Caribbean, http://www.atotalexperiencetravel.com A One Stop Shop for travel and related products.
Brides-to-be book a Destination wedding with A Total Experience Travel and receive a complimentary pair of Swappableshoes fitting for a beach wedding. (One Pair per booking Style Vega Flat while supplies last and must have booked a Destination Wedding direct with A Total Experience Travel including Air, Lodging and Wedding Planning services.
Contact a qualified travel consultant today for the perfect getaway at 305-763-3700 or email nicole(at)atotalexperiencetravel(dot)com.