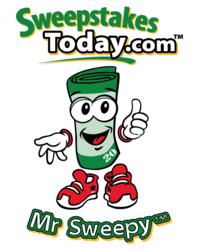 (PRWEB) July 09, 2012
David Corbeil of Reynoldsville PA joined SweepstakesToday.com (http://www.sweepstakestoday.com) in 2007. "I was hoping to get some extra money to pay down bills," he said in an interview today.
"It's turned out to be more lucrative than he hoped," commented Craig McDaniel, the site's founder and CEO who is known by members as Mr. Sweepy. "I totaled his wins and he's a bit over $44,000 in (sweepstakes) winnings which works out to an average of than $8,000 a year. His first big win was $10,000 from TBS which put him squarely in our 10K Club."
"It surprised me, Corbeil said of that his 10K Club membership. "Mr Sweepy sent me a personal letter"
Corbeil later won a Toyota Prius which he later sold and $2,500 worth of furniture, "which we're still using," he commented
Asked if he's addicted to sweeping, Corbeil replied, "Not addicted, more driven to never give up. "If I give up… that is (when) I would have won something. One time I found out an entry that won I had placed on Thanksgiving morning before heading out with family."
"Sweeping is all about the hope, Corbeil continued. "Each day I can run to the mailbox not knowing if something will be there."
According to Corbeil he explored many sites before he settled on SweepstakesToday.com. "Some had sweeps that were too small to enter (like) movies that only would appeal to those that follow that type of films. Many sites started to cause large amounts of spam (to land in my email) after entering."
Sweepstakes Today LLC was launched online in March of 2004. The popular (free sweepstakes) site is based in Tulsa, Oklahoma and the custom Microsoft ASP/ASPX programming development is done in Salt Lake City, Utah. The website has now published over 36,000 sweepstakes, contest and giveaways. 239 members currently are in the $10K Club having won over $10,000 in cash or prizes.