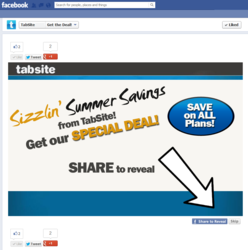 South Bend, IN (PRWEB) August 28, 2012
The premise is simple: Boost Facebook Page Engagment by fan sharing.
In order to "unlock" your Facebook Page deal, the fan must share the deal with others! After the share, they get access to your offer.
The new "Share Deal" App from TabSite is a great tool for offering a special discount, an e-book download, a savings code, or other promo that spreads because fans need to share the deal in order to get access themselves.
This App is available at the Platinum Plan level and includes the Promotional Tool feature enabling you to build a call-out to add to your website/blog to drive traffic to the tab!
The TabSite 'Share Deal' app for Facebook Pages offers quick setup with tools including:

Ability to add a branded header image
A main body that outlines the deal offer
Social sharing buttons on the Page including the Share button, Pinterest Pin button, Google's +1 and also the Tweet button that can have customized text
Ability to add a Like Gate image for fan gating
Promotional Tools including a Smart URL for posting that detects mobile devices and displays a mobile friendly version of the Facebook Tab, as well as ability to create a website/blog call-out image so that Admins can use the provided embed code to add to blog and websites. This image call-out will link to the Facebook Page Tab.
Founded in 2010, TabSite was established to meet the growing demands of digital marketers seeking to leverage Facebook. The company's suite of custom content solutions and social engagement applications inspire fan participation, drive traffic and increase business exposure among thousands of businesses, agencies and partner affiliates worldwide. For more information on TabSite , please visit http://www.tabsite.com.