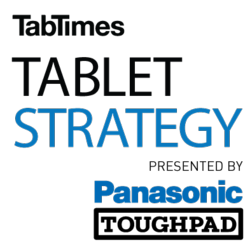 New York, New York (PRWEB) March 29, 2012
Tablet project leaders and industry executives from organizations spanning the enterprise, health services, education and other industries will gather on April 27 in New York at a business conference focusing on the fast-paced adoption of tablets in the business world. The event will be held by TabTimes, the source for tablet business news, trends and solutions.
Alan Masarek, the CEO of business success Quickoffice, will lead off this one-day event, called TabTimes TABLET STRATEGY presented by Panasonic Toughpad™, which will bring together organization managers who are involved in tablet deployment projects.
TabTimes has assembled an impressive roster of tablet experts to discuss best practices and share practical advice and strategies. Tablet project leaders from Ford, Jacobs Engineering, Ottawa Hospital, Seton Hall University and the Austin Convention Center will convene to explain their deployment methodologies and discuss the challenges and rewards of their projects.
Executives from Alfresco, Trend Micro, Box, MobileIron, 451 Research and Foley & Lardner among others will also be speaking at the conference, which is positioned to help enterprise decision-makers develop tablet projects in order to improve corporate productivity and achieve ROI goals. Sessions will cover such topics as "Bring Your Own Device" policies, trends in corporate tablet projects, guidance in developing corporate apps, and critical security features.
TabTimes TABLET STRATEGY presented by Panasonic Toughpad™ will be held in New York City's Meatpacking district at the new Dream Downtown hotel, a fresh, new vibrant venue for this business technology conference.
Panasonic Toughpad™ is the presenting sponsor of the event. "Panasonic sees the opportunities for tablet use in enterprise and government environments growing rapidly in the coming years," said Jim Dempsey, business development manager, Panasonic System Communications Company of North America. "Device manufacturers, application developers and infrastructure providers have the opportunity to deliver the promise of mobile computing to markets that were not open to them before and to create new opportunities in existing markets. By providing a platform for tablet-specific dialogue, TabTimes, through its web site and conferences, has carved out an important niche in this growing space."
In addition to Panasonic, sponsors include Alfresco, Fiberlink, Kensington, FileMaker, MobileIron, Propelics, Ringier Studios and Xplore Technologies.
More information can be found, and admission passes for the conference can be purchased, at TabletStrategy.com.
About TabTimes
TabTimes is a media start up whose mission is to provide information and marketing solutions to the tablet ecosystem. With a target audience of managers, IT professionals and business people, it publishes TabTimes, an HTML5 web app for tablets at t.TabTimes.com, TabTimes.com, the reference news site about the tablet industry and special reports. Based in New York, it employs editors in Northern California, New York and London. For more information, see TabTimes.com/about.
Source:
Steven Lang, TabTimes Managing Editor and Conference Chair
steven(dot)lang(at)tabtimes(dot)com - 718.570.6960
Contact:
Pia Andrea de Soiza, TabTimes Event and Promotion Manager
pia(at)tabtimes(dot)com - 845.323.2210