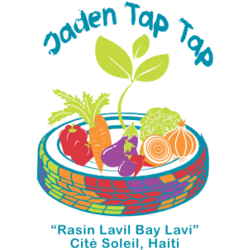 With a Dream, Everything is possible. Be the Change.
Miami, FL (PRWEB) March 27, 2012
Bochika is proud to announce the unveiling of a new short video that showcase's the "Jaden Tap Tap" (Tap Tap Garden) and a positive side of Cite Soleil, Haiti that is rarely shown to the public. We invite everyone to take a moment and enjoy this video that demonstrates the combined hard work of organizations and communities to realize a collective dream. Watch Now: http://vimeo.com/bochika/jadentaptap. The video will also be screened after a short community-talk with the Tap Tap Garden Directors seen in the film, Ann Marie Warmenhoven (Bochika) and Daniel Tillias (SAKALA): Tuesday, March 27, 7:30 p.m. at the Little Haiti Cultural Center, 212 NE 59 Terrace, Miami FL 33137.
The subject of the film, the Tap Tap Garden, is Haiti's largest urban garden, containing more than 500 brightly painted tire gardens and a nursery of 5,000 trees. This video highlights the Tap Tap Garden as a model for urban agriculture for the neighborhood, country, and the world - demonstrating that bountiful, nutritious gardens can be grown in even the harshest conditions. The Tap Tap Garden is an acre of former landfill that now symbolizes hope, empowerment, education, and opportunity for Cite Soleil, one of Haiti's most impoverished neighborhoods. Most international agencies classify the neighborhood as a "red zone", yet the Tap Tap Garden is turning it "green."
Bochika and SAKALA would like to thank OnSlot Media for producing this short film, "A New Beginning in Cite Soleil: the Jaden Tap Tap" as well as all of our fellow partners in the Tap Tap Garden: SOIL (Sustainable Organic Integrated Livelihoods), Pax Christi Ayiti, Pax Christi USA, , Pro-Huerta, Catholic Relief Services (CRS), Mennonite Central Committee (MCC), Harambee Sustainability Group & Soccer1. To learn more about the Tap Tap Garden or Get Involved, visit http://www.bochika.org , or contact Herode Garry Laurent in Haiti (+509 37 75 6524), or Ann Marie Warmenhoven in the United States (305-747-1984). Donations can be made directly to the Tap Tap Garden via bit.ly/TapTapDonate.
About Bochika:
Bochika is a 501c3 not-for-profit organization headquartered in Miami FL. Bochika's mission is to empower marginalized and impoverished communities through participatory sustainable economic, agricultural, and social development programs. To fulfill this mission, Bochika builds partnerships with community-based organizations and provides training, tools, and technology that promote organizational development, increase social impact, and enhance global visibility. In its first year of existence, Bochika was awarded major grants to fund programs in Haiti and Miami, selected to lead a 300-person Capacity Building seminar in Colombia, and acknowledged for its innovation and commitment to change by former President Bill Clinton. To learn more, visit http://www.bochika.org.