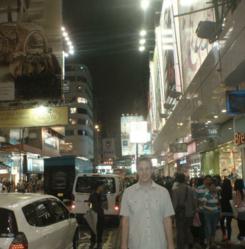 We are very confident in the quality and durability of our products, our manufacturer has been making these tattoo kits for over 10 years.
Melbourne, Victoria (PRWEB) November 21, 2012
Freshly launched online store TattooShark.com.au is asking, "Where are you sourcing your tattoo supplies?" After a trip over to the Hong Kong world trade fair in April 2012, Tattoo Shark co-founder Luke van de Paverd has sourced high quality and affordable tattoo kits and brought them to the Australian market. Whether it's tattoo machines, kits, inks, needles or accessories there is stock available and ready to ship.
Sourcing a quality product was very important for Tattoo Shark to begin operating. Co-founder Peter van de Paverd said, "Providing a safe and high quality product was high on our agenda. For this reason we ensured our manufacturer holds authentic CE and FCC certification." Peter went on to say that they also offer a one year global warranty giving all customers piece of mind with their purchase. "We are very confident in the quality and durability of our products, our manufacturer has been making these tattoo kits for over 10 years", said Peter.
Tattoo Shark has also put a big priority on their website http://www.tattooshark.com.au. "We wanted to have an easy to navigate, clean, simple and functional website that made shopping easy and convenient for our customers and I believe we have achieved that", Luke said. It's easy to see that the website has been developed with the user in mind. There are links from the homepage to go to all the main categories including tattoo kits, tattoo ink, tattoo supplies and tattoo machines. There is no clutter on the site which makes it great. Each product page also features lots of high resolution images and very detailed specifications so you have all the information you need to make an informed decision.
Another great feature on their website is the Live Chat box. "People viewing our website can instantly contact us with any questions they might have or to request more information about a product. The Live Chat is monitored beyond standard business hours for over 10+ hours a day on weekdays. This includes after hours which is a real advantage for our customers" Peter said. Customers can access the Live Chat feature by clicking the 'Chat Now' button on the bottom right corner of the website.
The product range on Tattoo Shark goes further than just tattoos. They also offer machine parts, needles and tips, tattoo removers, tattoo clothing, temporary tattoos, tattoo grips, power supplies, transfers and even body piercing accessories. Peter said that they want to offer the right product range for their customers, "Having a good range of products helps our customers because they can source all their machines, supplies and accessories from the one shop – how easy is that?"
Tattoo Shark is an Australian owned and managed company. While they ship globally, their focus is on serving and meeting Australians needs. "One thing we are very happy to offer is free shipping. There is nothing worse than shopping online only to find that there is an expensive shipping fee at the checkout. For this reason we offer completely free shipping on orders of all sizes", Peter said. "We're all about the customer! We know the product is great but we also want to deliver a great customer experience too".
Visit the Tattoo Shark website for more information or to view their product range.