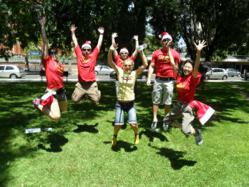 Key Christmas dates are available for organisations looking to book fun social events that team members can enjoy. Team Bonding's roster of teambuilding activities is highly sought out by organisations wanting to escape traditional corporate activities.
Sydney (PRWEB) August 22, 2012
Christmas is still a few months away, but that's no reason to hold off party planning arrangements for company departments and teams. In fact, now is the best time to pick up the phone and contact Team Bonding, Sydney's leading team activities suppliers. The company recently announced that there are still key Christmas dates available for organisations looking to book fun and social indoor or outdoor events that all team members can enjoy.
In 2011, Christmas bookings closed on October 8 due to the long list of teams wanting a unique Christmas party experience. Customers who attempted to book their event later in October until December had to be turned away, much to their disappointment. "Now in mid-August, we still have about 75% availability, though some December Fridays are booked out," explains Cate Richards, director of Team Bonding. "Hopefully, we won't let as many people down as we've increased capacity so we can take multiple bookings on key dates."
Team Bonding's roster of teambuilding activities is highly sought out by organisations wanting to escape more traditional corporate activities that feel forced and fail to stimulate camaraderie and rapport among team members. By offering a wide range of activities that many people would be excited to try with a group of their own friends, Team Bonding has cemented its reputation for organising high quality and stress-free events to suit all team sizes, budgets, and tastes.
Not only are Christmas slots still available, but teams also have a number of enjoyable events to choose from. The most popular outdoor events perfect for large groups include the Amazing Race (part scavenger hunt and part city tour, with fantastic courses in the Rocks or the Botanic Gardens or a brilliant new course in Cockle Bay) and the Mini Olympics (taking its cue from the brilliance and spirit of the recently concluded London 2012 Olympics).
For those looking for team activities for their corporate Christmas party with easy logistics, casual clothing, and less physical exertion, Team Bonding has some new events in store. Paparazzi is an outdoor activity that lasts only 1.5 hours and involves finding specified locations and being creative with posing for pictures—something that digital photography enthusiasts are sure to love. Those who don't want to run around but still want to experience an Amazing Race event throughout Sydney can try racing in the comfort and style of London Cabs in the London Cab Rally event. The new Circus Skills Workshop is another excellent way to bring team members together in learning juggling, spinning plates, and other wacky circus skills that build adaptability and challenge inhibitions.
To infuse life into a Christmas team dinner, Team Bonding offers activities like Murder Mystery (with a fabulous ensemble cast that can be themed to suit the team's preferences) or the alternative to trivia that will bring back great memories—Olympics Quiz. Other indoor activities like Artworks, Cooking Up a Storm, and Team Games help foster genuine rapport and keep team members busy with specific skills.
"We pride ourselves on offering great value; we don't pad our prices with unnecessary customisation and we share our prices right on the website, so you will be able to choose something that suits your budget at one glance," adds Richards. "We'll make organising your team activity truly easy."
Corporate events don't have to mean boring parties with tired decorations, the usual food choices, and a half-empty dance floor. Thanks to Team Bonding's innovative team building ideas, Christmas parties and other company events can truly be educational, creative, and fun while building friendships, strengthening bonds, igniting team spirit, and creating memorable experiences at the same time.