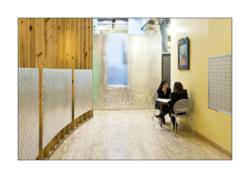 "Our Union Square campus is the epicenter for successful high-tech and creatively-charged companies in Manhattan. We are committed to providing extraordinary office space and technology solutions to these great businesses" said Victor Memenas, CEO
New York City, NY (PRWEB) March 29, 2012
TechSpace Holding Co., the nation's leading provider of flexible, on-demand, "alternative office space" and integrated technology services, answers strong demand for its office space and technology services by announcing today plans to expand in New York City by opening an additional 20,000 square feet of flexible office space. The additional office space will be located at the company's New York Union Square campus and will provide an additional 30 offices and 200 workstations. The new space will incorporate unique design elements and highly scalable offices along with TechSpace's proven technology platform, a powerful combination that has made TechSpace the premier work environment for small to mid-sized office users since 1997.
"Our Union Square campus is the epicenter for successful high-tech and creatively-charged companies in Manhattan. We are committed to providing extraordinary office space and technology solutions to these great businesses" said Victor Memenas, Chief Executive Officer for TechSpace. "We pride ourselves in offering the small and medium business market with distinctive office space that is efficient, flexible and a great alternative to traditional commercial office space."
TechSpace's Union Square location will now provide 60,000 total square feet of office space over three full floors. The campus includes open, loft-like office space, large windows and interconnecting stairways. Residing in the heart of New York City's Silicon Alley, TechSpace Union Square has long been the destination of choice for successful, venture capital-backed companies.
"We have an extremely satisfied and loyal client base that has been demanding additional TechSpace product", said Victor Memenas. "By utilizing TechSpace's exceptional service platform, our client companies don't have to invest precious capital for non-core business needs. They are able to walk into to a fully-staffed, technologically-advanced office and benefit from the inherent flexibility of a shorter term commitment. They can easily adjust their occupancy and consumption as their business needs dictate", said Memenas.
TechSpace Union Square is currently under construction and will be open in August 2012. Site information and reservations for office space now available. Please contact Brendan McGee, 212.905.3454.
About TechSpace:
With multiple facilities in the United States, TechSpace is a full-service facilities and infrastructure provider delivering a completely integrated IT and business process outsourcing platform for small and medium sized companies. TechSpace's integration of flexible office space, state-of-the-art technology infrastructure, and business process outsourcing solutions leaves companies free to concentrate on their core competencies.