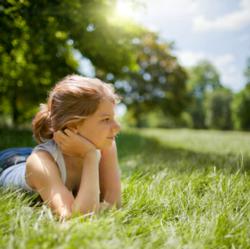 The winning student blog shared a personal story from a teen who lived in the desert.
York, PA (PRWEB) October 31, 2012
Between jobs, Facebook, online gaming, school, or in the wake of Hurricane Sandy, bad weather, many teens forgo opportunities to breathe in an autumn breeze or otherwise connect with the planet around them by doing something in nature.
In fact, 88% of teens feel that their generation is disconnected from nature reports StageofLife.com, an online blogging community for teens and college students.
The site asked over 4,442 high school and college students to answer the question, "How has nature inspired you?" via a 500 word essay as part of its national writing contest, along with a 15-question national survey that polled the students about their attitudes towards nature.
The idea for this teen blogging contest prompt and survey came from Richard Louv's book, Last Child in the Woods. According to Mr. Louv, today's children (and adults) are deprived of a basic necessity we have as humans - to connect with the outdoors. Louv labels this phenomenon - "nature-deficit disorder."
Statistics and key insights from the StageofLife.com teen survey concluded that teens are concerned about their connection to nature, but there's often a dichotomy between how they feel and what their actions are. For instance...
--73.3% of teens went outside more as an Elementary student than now, as a High School student
--69.4% of teens would rather listen to their favorite songs on an iPod (or other music device) than the sounds of nature
--88.8% of teens feel that their generation is disconnected with nature
--68.5% of teens are either "indifferent," "don't care," or "care but don't take an active role" in being concerned about the effects of man on nature
--73.3% of teens have not heard of the term, "Anthropocene" (how man is effecting the planet's biodiversity and nature) before the Stage of Life writing contest
--30.1% of teens spend less than three (3) hours per week outdoors during the school year (whether that's for work, sports, or a hobby)
At a more anecdotal level, after taking the survey, students submitted essays to the StageofLife.com writing contest. From the qualifying teen essay submissions, several themes and trends emerged about how students feel about nature:
1) Technology: Almost all teens agreed that their peers (and probably themselves) spend too much time on the computer or on their phones. Nature is a much more interesting place; teens should log off, if just for an hour, and go spend it outside.
2) Memories: Teens wrote about fond memories, both past and recent, about time spent in nature: family vacations (some forced, some fun), sports activities, and even just relaxing with the trees.
3) Life-Changing: Quite a few teens wrote about how their experiences with nature changed their lives in some way. From something as simple as caring more about the environment, to deeper issues about spirituality and friendship, nature is close to these teens' hearts.
4) Environmental Issues: These teens agreed that all people need to treat nature with respect. After all, we love our mother; why not mother earth?
5) Peaceful and Simple: These were the words most used to describe nature. Nature does not boast and is always willing to listen; it is not complicated and always around. So what are you waiting for? Shut off your computer and enjoy the peace and simplicity of nature!
The winning student blog post shared a personal story from a teen who lived in the desert.
All of the essays and teen trend statistics about nature can be read at http://www.stageoflife.com/TeensandNature.aspx
# # #
StageofLife.com is a privately held company founded in 2009 as a free educational resource with a digital literacy mission to encourage life-long readers and writers through its interactive blogging community for all generations, from teens to Baby Boomers.
With over 5 million uploaded words and thousands of submitted essays, it is becoming one of the world's largest collection of multi-generational stories. The site features blogging resources in the form of monthly blogging contests, free educational blog resources, Language Arts lesson plans about blogging, writing prompts, and more.
You can reach StageofLife.com by calling Founder and CEO, Eric Thiegs, at (717) 244-0006 or via email at contact(at)stageoflife(dot)com.