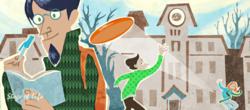 Sports are a reason for families to hang out with each other and for teens to stay active while having fun.
York, PA (PRWEB) November 26, 2012
The fall is the perfect storm for professional sports. Consider that the World Series caps the end of baseball season just as the college football, NFL, NASCAR, NBA and NHL seasons get into full swing.
This led StageofLife.com, the educational writing community for teens and college students, to ask its student bloggers how sports play a role in forming family traditions (positively or negatively). Over 7,000 teens visited StageofLife.com during the monthly survey and writing prompt, with many participating to share their views on the effects sports have on family traditions.
Highlighted teen statistics from the student sports survey include:
--61% of students say their parents are more into sports than they are
--57% of students play sports outdoors with their family
--54% of students describe their grandparents as "big sports fans"
--66.7% of students cheer for the same sports teams as their parents; 21.2% cheer for completely different teams; and 12.1% of teens (or their parents) do not cheer for sports teams at all
--Teens feel that "doping and drugs" is the biggest problem in sports today (compared to player salaries, behavior/antics, and rules/referees)
--27% of teens say they play in a sports fantasy league
--63.6% of teens were introduced to sports by their Dads
--36.4% of teens only watch the game for their favorite team while 30.3% of teens watch as many sports as they can
--21% of teens spend $50 - $100 on sports-related items per month
--Teens have made the following sports-related purchases in the last 12 months: tickets to a game – 36.4%; clothing (hats, jerseys, etc.) - 63.6%; memorabilia (mugs, bobble heads, posters, etc.) - 27.3%; equipment (gloves, pads, balls, etc.) - 42.4%; sports-themed video game – 33.3%; sports-themed mobile app(s) - 18.2%
After taking the sports survey, students submitted their personal essays to the StageofLife.com monthly writing contest. Several themes and trends emerged about how teenagers feel sports impact family traditions:
Sports are Positive: Teens overwhelmingly agreed that sports and sports traditions are positive influences in their lives. Sports are a reason for families to hang out with each other and for teens to stay active while having fun.
Sports are Negative: There were dissenters, too. Some teens felt that sports either made no impact in their lives or made a negative impact. They questioned why sports were so important and why athletes were glorified.
Friendly Competition: One thing was clear: Sports brought families together—by watching, playing, and discussing the topic with each other. Although most teens rooted for the same teams as their parents, some teens liked the competition with family members who rooted for other teams.
Football: Nearly one-quarter of the stories submitted were about football. Essays about the Oregon Ducks, the Ravens, LSU, the Saints, the Giants, the Cowboys and many other college and professional football teams were submitted.
Other sports mentioned included baseball, basketball, biking, cheerleading, cross country running, dance, drill team, football, gymnastics, hockey, paintball, skateboarding, soccer, swimming, tennis, volleyball, and wrestling.
The 1st place essay, Crossing the Gap, was submitted by 12th grader, Paul Kim, a self-proclaimed teen nerd attending Bergen County Academies in New Jersey. His story shares how tennis served as a bridge for communication with his Korean-born father. Kim won the majority of votes from the 26 Editors and staff who facilitated the national sports writing contest for StageofLife.com.
The winning monthly StageofLife.com student writer received two movie ticket passes from sponsor, Fandango.com, and featured blogger status on StageofLife.com.
All of the teen sport essays and statistics can be read at http://www.stageoflife.com/TeensandSports.aspx
StageofLife.com's current national writing prompt asks high school and college students to share a story about their favorite book and a personal impact it's made on them. Essays are due by midnight (US Pacific Time) November 30th.
# # #
StageofLife.com is a privately held company founded in 2009 with a literacy mission to encourage life-long readers and writers through its interactive blogging community designed for all generations, from teens to Baby Boomers.
With over a quarter of a million teen and teacher visitors each year, 5+ million uploaded words, and thousands of submitted essays, it is becoming the world's largest collection of multi-generational stories. The site features free educational resources in the form of monthly writing contests, free blog resources, Language Arts lesson plans about blogging, writing prompts, and more.
You can reach StageofLife.com by contacting Founder and CEO, Eric Thiegs, via email at contact(at)stageoflife(dot)com