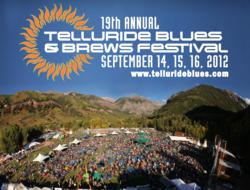 "We are extremely excited about our musical line up this year," said Steve Gumble, founder of the festival. "Our festival weekend is shaping up with amazing musical talent daily."
Telluride, CO (PRWEB) March 28, 2012
Tickets for the 19th Annual Telluride Blues & Brews Festival, held September 14-16, 2012, are on sale now.
Renowned as one of the most scenic and intimate music festivals in the country, Telluride Blues & Brews is located within the world-famous resort town of Telluride, Colorado, in the heart of the Rocky Mountains. Blues & Brews is known in Telluride as the 'locals' festival, and is a three-day celebration of music and microbrews held in Telluride Town Park, an outdoor music venue with breathtaking 13,000 foot mountains as a backdrop. The festival offers an eclectic mix of live blues, funk, rock, jam band, gospel and soul performances, and over 50 of the best microbreweries in the country, with a wide variety of food and craft vendors, children's activities, late night jams, and much more.
Tickets for 3-Day passes, Juke Joint passes, and Camping passes are on sale now. Single Day tickets go on sale June 15, 2012. Children 11 and under are free.
For festival information or to purchase tickets visit us online at http://www.tellurideblues.com. To purchase tickets by phone please call us toll-free at (866) 515-6166. Like us on Facebook and follow us on twitter for up-to-date festival news.
###