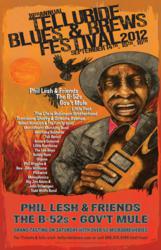 Blues and Brews is a three-day celebration of live music and microbrews held at Telluride, Colorado, nestled in the valley of stunning 13,000-foot mountain peaks.
Telluride, Colorado (PRWEB) August 16, 2012
Spend the Last Days of Summer in Telluride, Colorado for the 19th Annual Telluride Blues and Brews Festival held September 14-16, 2012
Festival headliners feature Phil Lesh & Friends, Gov't Mule, and The B-52s. Additional performances include Little Feat, Trombone Shorty & Orleans Avenue, Robert Randolph & the Family Band, The Chris Robinson Brotherhood, Anders Osborne, Heartless Bastards, MarchFourth Marching Band, Tab Benoit, Little Hurricane, Pickwick, The Lee Boys and many more. For the complete festival lineup and schedule, please visit tellurideblues.com.
Limited Festival Tickets Available
Saturday Single Day tickets are now SOLD OUT, with limited quantities of 3-day passes, and Friday and Sunday Single Day passes available. Sunday tickets are $65 each, Friday tickets are $55 each and 3-day passes are $170 each. Don't wait to purchase, as tickets are selling faster than in previous years. For more information or to purchase tickets visit Tellurideblues.com, or call 866.515.6166
New Juke Joint Venue Added
A newly added Juke Joint Main Street Tent was added this week with more music to be announced. Stay tuned for music updates, and visit tellurideblues.com for the latest news.
Bal de Maison Kick-off Show On Sale Now
Blues & Brews is proud to announce San Diego Blues/Rock duo Little Hurricane for the Bal de Maison, our exclusive weekend opening performance at the Historic Sheridan Opera House on Thursday, Sept. 13th at 9:00pm. Limited tickets for the Bal de Maison are $20.00 and are currently on sale now at Tellurideblues.com or by phone at (866) 515-6166.
Camping
SELL OUT ALERT! Camping passes for the Festival weekend are almost SOLD OUT. The campground is located in Telluride Town Park adjacent to the festival grounds, and is a beautiful, natural campground located between the San Miguel River and Bear Creek.
Festival 4-day camping passes are $40 per person, starting Thursday, September 13. All Camping passes are sold per person, and not per site. Space is "first-come, first-served," and campers at Town Park have access to showers and permanent bathrooms throughout the weekend.
For festival information or to purchase tickets visit us online at tellurideblues.com . To purchase tickets by phone call toll free (866) 515-6166. 'Like' us on Facebook and 'Follow' us on Twitter for more Festival news!
About Telluride Blues and Brews Festival
Telluride Blues and Brews is one of the most scenic music festivals in the country, a 3-day celebration of live music and 50+ microbreweries held Sept 14-16th 2012. For more information visit Tellurideblues.com
Media Contact:
Bill Kight
Telluride Blues & Brews Festival
Bill(at)sbgproductions(dot)com, 970.728.8037x107
@tellurideblues
###