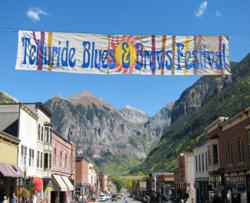 This year is one of the most eclectic and exciting lineups in the history of the Festival...
Telluride, CO (PRWEB) September 12, 2012
The 19th Annual Telluride Blues & Brews Festival happens this weekend in picturesque Telluride, Colorado. With newly added festival features, such as IMAG technology, giving our festival audience a better stage view, enhanced lights, viewing screens, and Live Webcasting, this year's Blues & Brews experience promises to be one of the best ever! If you find yourself in the Telluride Mountains this weekend, here's a list of Blues and Brews' must-do weekend events:
First thing is first, Purchase Tickets Soon: There are limited single day tickets available for both Friday and Sunday, with The B-52s headlining Friday night and Phil Lesh & Friends headlining Sunday night. Additional day performances feature Little feat, Robert Randolph, Chris Robinson Brotherhood, Trombone Shorty, Heartless Bastards, Little Hurricane, Anders Osborne, and many more. Friday tickets are just $55 each, and Sunday tickets are $65 each. 3-Day, VIP and Saturday Single Day passes are now sold out!
Grand Beer Tasting: On Saturday, Sept. 15, the festival's renowned Grand Beer Tasting takes place from noon – 3 pm on the festival grounds. This premier beer tasting event features more than 150 beers from over 50 microbreweries across the country. Festival bands Monophonics, Orgone and MarchFourth Marching Band will rock the Main Stage during the tasting while attendees sample special edition brews, new releases and have an opportunity to vote on their "Best of the Fest" brew!
The Bal de Maison: A term used for a "Cajun house party," the Bal de Maison signifies Blues & Brews special weekend festival opening performance. This year's Bal de Maison features San Diego Blues/Rock duo Little Hurricane, currently touring the country in support of their debut album, Homewrecker. Little Hurricane rocks the Historic Sheridan Opera House on Thursday, September 13th at 9:00pm. Limited tickets for this show are available online at Tellurideblues.com.
Telluride Acoustic Blues Competition: The 12th Annual Telluride Acoustic Blues Competition takes place Saturday, Sept 15 from 9 a.m. - noon during the festival's renowned Blues for Breakfast concert, held at Telluride Elks Lodge, 472 West Pacific Ave. This event is FREE to the public, and festival attendees can come watch solo acoustic Blues performers compete for the Acoustic Blues title while enjoying breakfast, Bloody Mary's, Mimosa's and a full cash bar - all for a nominal fee to help benefit the Telluride Elk's Club and the Telluride Blues Society.
The B-52s Costume Contest: It's time to channel your inner ROCK LOBSTER at this year's Telluride Blues & Brews Festival! On Friday, Sept. 14, Blues & Brews hosts a full-blown B-52s COSTUME CONTEST! Come dressed as your favorite B-52's, Rock Lobster, or 80's mash-up character to be chosen from the crowd, and given a "LOVE SHACK" token for your chance to compete and win two weekend passes for next's year festival! The Blues & Brews crew will be flaunting their eclectic B-52s style right along with you, so don't be shy!
Free Concert in Mountain Village: The Blues & Brews Festival is delighted to announce the Sunset Blues Concert this Thursday, September 13th. The event features the MarchFourth Marching Band and takes place at the Mountain Village Sunset Plaza, just a short and scenic Gondola ride away from the Town of Telluride. The event and Gondola ride are free and open to the public. Mountain Village's open air market will also be taking place on the Heritage Plaza featuring food and craft vendors from 12:30 p.m. to 6 p.m.
Coolest Campsite Challenge: Festival campers have the chance to win amazing prizes, like 2013 festival Tickets, simply by letting their creative juices flow in the festival campground during the weekend. Coolest Campsite Challenge Judges will scout the campground during the weekend to pick First, Second, and Third prize winners. All winners will be announced Sunday morning from the Main Stage. No registration is required to participate and Judges will determine the "Coolest Campsite" based on creativity, originality and quality. Blues & Brews also encourages that sustainability and community be considered in their campsites.
Now that you have the skinny, start packing for your trip to Telluride Blues & Brews! For more information, please call (866) 515-6166 or visit TellurideBlues.com. Like our Facebook Fan Page and follow Twitter for up-to-date events, news, photos, videos, contests, and more.
About Telluride Blues and Brews Festival
Telluride Blues and Brews is one of the most scenic and intimate music festivals in the country, a 3-day celebration of live music and microbreweries held every September in the world-famous resort town of Telluride, Colorado, in the heart of the Rocky Mountains.
Media Contact:
Bill Kight
Telluride Blues & Brews Festival
Bill(at)sbgproductions(dot)com, 970.728.8037x107
@tellurideblues