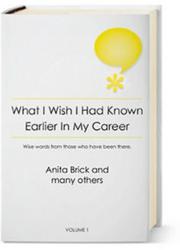 "The book adds value to any professional who wants to draw from some of the most impressive corporate leaders today."
-Jeff Hornstein
St. Charles, IL (PRWEB) April 20, 2012
Jeff Hornstein, president of The Speaker's Choice, was one of 69 contributors to the newly published e-book, "What I Wish I Had Known Earlier in My Career, Wise Words From Those Who Have Been There (Volume I)," which was launched online on March 20th, 2012.
The book was written for professionals of all career and experience levels, from new graduates to seasoned veterans. It is a compendium of the value of collective human capital; it gives readers an opportunity to gain insights from leaders across a variety of industries and apply the principles to their own careers.
"The book adds value to any professional who wants to draw from some of the most impressive corporate leaders today. To be chosen to participate in a project of such diversity of industry and leadership style is a privilege. What I Wish I Had Known will give aspiring leaders food for thought about what is truly important for professional growth," commented Hornstein.
Hornstein's chapter comprises four pieces of advice, the first of which emphasizes the value of mentorship. Hornstein shares how he has incorporated mentors to achieve new levels of success while building his business.
Other advice offered by Hornstein in the book includes volunteering, building a broad network, and dealing with the unknown, and the process of an unfolding career.
Other contributors to the e-book include an airline captain, a psychologist, tech entrepreneurs, bankers, healthcare providers, and members of the media. Topics covered include choosing the right career, leading in challenging times, and rebounding from a setback.
Hornstein was chosen to participate in the compilation because of his work at The Speaker's Choice, as well as a facilitator of the MBA Effective Leadership Program at University of Chicago Booth School of Business.
What I Wish I Had Known can be downloaded at no cost through May 2012 at http://www.whatiwishihadknown.org. The table of contents links to each of the contributors' profiles.
The Speaker's Choice is a professional spoken communication consulting and training organization based in the Chicago area. To contact Jeff Hornstein, president of The Speaker's Choice, or to learn more about consulting, coaching, and training opportunities, please visit the company website: http://www.thespeakerschoice.com. The next open enrollment Communicating Crediblity one-day workshop is scheduled for September 14th, 2012, in Chicago. Find information and register on the website, as well.
###