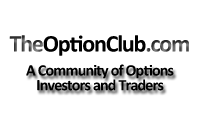 I really appreciate all you have done for option education. I have learned a lot from you and am a better trader because of it.
Chicago, IL (PRWEB) November 26, 2012
On Tuesday, December 4, 2012, Mark Sebastian will join TheOptionClub.com community for a 1-hour live presentation in which he will share some of his insight and thoughts about building and executing a trading plan. Mark is the author of the popular trading book 'The Option Trader's Hedge Fund' and is a frequent contributor to numerous financial media outlets.
Today's finanical markets make it possible for a retail trader to create a one-man trading business. In both his book and this live presentation Mark Sebastian explores this concept of the one-man hedge fund and demonstrates how it can be accomplished.
Join TheOptionClub.com trading community for this complimentary live presentation featuring a trading floor veteran. The presentation will start at 9:00 p.m. ET (8:00 p.m. CT / 6:00 p.m. PT) and will run approximately one-hour.
Register for the Live Option Trading Web-Cast Presentation
http://www.theoptionclub.com/webinar-registration/
This presentation is part of TheOptionClub.com's Presentation Series in which industry professionals and other notable persons in the options trading profession are invited to educate the public on subjects related to options and options trading.
About TheOptionClub.com:
TheOptionClub.com was founded in 2003 as an on-line options trading community and continues to serve that purpose today. Additional education, training and mentoring is provided through TheOptionClub.com's Trading Room where members enjoy weekly live on-line training events, access to a growing video and download library, a private member's support forum, and more.
Follow TheOptionClub.com on Twitter: twitter.com/theoptionclub
Follow TheOptionClub.com on YouTube: youtube.com/theoptionclub