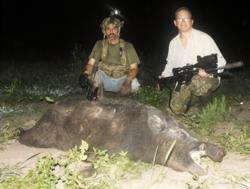 I could easily see hogs and deer out to 500 yards
Corpus Christi, TX (PRWEB) August 23, 2012
SPI CORP enlists the aid of Dr. Lucci to test its latest thermal scope offering as a suitable tool for dealing with the wild hog infestation in Texas. SPI produces a variety of thermal imaging systems used by military, law enforcement and civilian customers.
Dr. Chris Lucci of Wild River Ranch LLC runs a guide service and distributes thermal scope technology nationwide. Dr. Lucci has years of experience in tactical hog hunting and is an expert in the control of the Texas wild hog infestation. Working closely with SPI Corp Dr. Lucci put the FLIR T60 thermal scope (available exclusively from SPI Corp) through its paces in the war on the wild hog infestation.
"I have lots of feedback……I loved it" Exclaimed Dr. Chris Lucci of Wild River Ranch LLC. "640 X 480 helps to keep the image sharp….I was shooting at steel plates with the scope on 8 X and hitting them with ease out to 300 at night". The scope was on loan from SPI Corp to assess its value as a tool for combating the wild hog menace that is plaguing parts of the country right now. The FLIR T60 clip on thermal scope is a military scope that is said to be industry leading in resolution at 640 x 480 pixels. Other thermal scopes apparently have resolutions of 160x120 or 320x240 and the T60 is said to have 4 to 8 times the resolution of those scopes. Clip on thermal scope technology allows the user to "clip on" the scope in front of existing daytime optics turning them into thermal optics without the need to re-zero the weapon. "This is a huge improvement driven by the military's need to have a single weapon that can be used in combat day and night" explained Randall Kolchins, Director SPI CORP "the ability to turn any scope into a night vision scope without having to adjust the day sight is a dramatic improvement over stand alone scopes."
But how does the thermal scope work in the real world you might wonder? "We used the unit in front of a Zeiss 4.5-14 X 50 scope with Mil-Dot reticle and it worked fantastically," said Dr. Lucci "I could easily see hogs and deer out to 500 yards, and hold the crosshairs on them." The T60 thermal scope has proved itself in combating the scourge of wild hogs that are ravaging farmlands across the nation. "This wild hog issue is a serious problem" explained Jim Santana, Sales Manager SPI CORP "we hear from customers every day how these animals are threatening their crops, livestock and even people. Some of these pigs are over 1000 pounds so it would be pretty scary if they attacked". The wild pig problem has reached epidemic proportion and many states have designated them a nuisance animal with no hunting season. Some states have even put bounties on the hogs. "A conservative estimate of the cost of wild pig damage to agriculture and the environment in the United States currently stands at $1.5 billion annually" according to the Wild Pig Info website (produced by the Mississippi State University). The pigs come out and cause damage at night so the thermal scope seems to be an ideal tool in this war.
Wild River Ranch, LLc is a unique outfitting/guide service, and distributor of night vision and thermal scope products. WRR provides some of the world's most advanced tactical hog hunting, backed by military-grade night vision, thermal scope and other devices now in use by our armed services. Guides are either ex-military, have decades of hunting experience, or both. WRR is also now teaming up with military and LE shooting instructors to offer civilian night vision training classes which culminate in live fire shoots on wild hogs in south Texas. The ranch also offers whitetail deer hunts when in season. For more information, go to http://www.wildriverranch.net.
SPI Corp has been in the business of manufacturing and distributing Thermal Scope Solutions for well over a decade. Existing products include hand held thermal imagers, thermal riflescopes and infrared cameras.
Potential customers interested in learning more about the T-60 Clip On Thermal Scope or for purchasing options including the entire line of thermal imaging solutions offered by SPI Corp can visit http://www.x20.org. Customers seeking immediate attention regarding these products should contact Jim Santana at 702-369-3966.