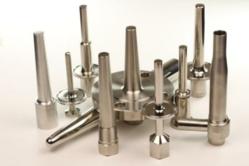 The right thermowell choice will ensure a successful measurement – for the long run.
Minnetonka, MN (PRWEB) September 28, 2012
A thermowell, with it's nearly unlimited variables, is the critical interface between the measurement sensor and the process. Thermowells protect the sensor from the harsh characteristics of many challenging processes and enable sensor removal without "opening" the system.
Burns Engineering's Thermowell Catalog presents several different styles, available in thousands of configurations, designed for both Industrial and Sanitary applications. Thermowell materials range from Carbon Steel to PTFE, including optional protective coatings for corrosive environments. This 46 page catalog is an excellent guide to the various thermowell choices to help ensure the most appropriate measurement solution for the process.
This catalog, available in PDF and Electronic Format, is an excellent reference document when evaluating instrument configurations within the Burns Series 100, 200, 300 and Sanitary product catalogs.
ABOUT BURNS ENGINEERING:
Since 1960, Burns Engineering has been an industry leader in the design and manufacture of temperature measurement products for the Process, OEM and Metrology industries. Products include RTDs, Secondary SPRTs, Thermocouples, Thermowells, Transmitters and NVLAP® Accredited Calibrations (Lab Code 200706-0). Learn more about Burns Engineering at http://www.burnsengineering.com or contact directly at 800-328-3871.