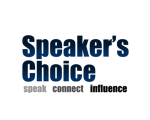 St. Charles, Ilinois (PRWEB) January 23, 2012
The Speaker's Choice is pleased to announce the appointment of Sue Reynolds-Frost to Director of Client Services. As Director of Client Services, Ms. Reynolds-Frost is responsible for discovering and delivering on client needs. She was officially promoted by The Speaker's Choice in September 2011.
Reynolds-Frost is responsible for tailoring programs such as the Myers-Briggs Type Inventory™, Social Styles™, and Emotional Intelligence™, as well as professional speaking skills coaching. Reynolds-Frost has been a lead consultant & trainer for The Speaker's Choice's flagship program, Communicating Credibility™, for the past 2 years.
"Working with companies who see the value in great communication skills for their employees is a dream come true. By joining The Speaker's Choice, I can bring value to our clients and see incredible results as a result of their coaching. As a results-driven person, I am thrilled with this opportunity," commented Reynolds-Frost.
Previous to joining The Speaker's Choice, Reynolds-Frost spent ten years as the Director of Training Programs at Spencer Stuart. She has also trained employees independently at a variety of companies, including Baxter Healthcare, MB Financial, The American Academy of Pediatrics, The Chicago Mercantile Exchange, and Radio Flyer. She brings 16 years of experience to her new position.
In addition to working as a client liaison, Reynolds-Frost is still involved in The Speaker's Choice training for organizations such as Booth Graduate School of Business at the University of Chicago.
The Speaker's Choice™ focuses on developing professional speaking skills that are commensurate with the technical and professional skills of its clients. Clients who elect training or coaching with The Speaker's Choice speak with impact and influence in and outside of the workplace. With over 13,000 clients trained, The Speaker's Choice is one of the most respected, sought-after professional service firms in the Midwest. For more information about training and coaching opportunities through The Speaker's Choice, visit thespeakerschoice.com or call 888-344-9002.
###