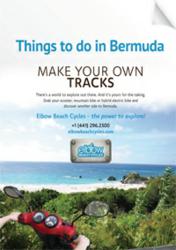 Explore hidden coves and pink beaches… swim in crystal clear blue waters… discover long-lost treasures and sunken mysteries… then dance beneath diamond-studded night skies. An island paradise awaits. Make Bermuda yours with this free travel guide.
(PRWEB UK) 19 July 2012
Travellers visiting Bermuda in 2012 or 2013 will certainly find value in this free travel guide from Elbow Beach Cycles -  Things To Do in Bermuda.
This brand new free 400 page ebook (pdf) is a collection of some of the very best attractions Bermuda has to offer a visitor in 2012/2013.
A spokesperson from Elbow Beach Cycles noted: "We're excited to be publishing this guide. Visitors can use this free travel guide to plan a visit to pink sand beaches and world famous bays like Horseshoe Beach, find friendly bars and exotic nightclubs, dine out at the best restaurants, and take in the most interesting landmarks this beautiful island paradise has to offer. Learn too about Bermuda's rich history and all the beautiful flora and fauna there is to discover on a visit to the island."
"Wether visiting for a few weeks, or jumping off a cruise ship at Kings Wharf Dockyard for a few hours, the very best way to explore the island is by rental bike or moped - and this free travel guide has all you need to know to make your holiday even more magical - and accessible."
This free guide lists the most popular visitor attractions, from churches, museums and historical buildings, to the very best annual events visitors cannot afford to miss. There's something for everyone in this book - for the adventurous thrill seekers, looking for a fun-filled time diving, parasailing and exploring the fast lane in Bermuda, and also for those who just want to have a quiet, relaxing holiday in Bermuda away from the crowds.
Don't miss a thing on a visit to Bermuda this year! Tourists cannot rent a car during a trip - and don't count on unreliable taxis and buses to see these sights either.
See more,  do more,  live the life. Explore Bermuda by rental scooter,  mountain bike or eco-friendly electric bike — all exclusively from Elbow Beach Cycles - Bermuda's premier scooter and pedal bike rental company.
Contact Mrs Dolores Thomas at Elbow Beach Cycles on + 1.(441).296.2300 or visit http://www.elbowbeachcycles.com/ or email her on explore(at)elbowbeachcycles(dot)com