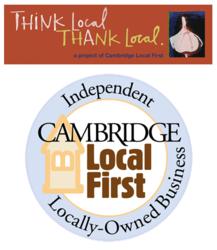 Cambridge, MA (PRWEB) November 20, 2012
Cambridge Local First, a network of independently owned local businesses in Cambridge, MA announced they would be donating proceeds from their sixth annual "Think Local Thank Local" campaign to benefit On The Rise.
Participating businesses in the "Think Local, Thank Local" campaign pledge a percentage of their revenues earned during the first week of peak holiday shopping season, beginning the day after Thanksgiving, to a selected charity. Promoting the effort with lively street and storefront signs, as well as other media, the campaign aims to mutually energize both local charity and the affiliated local businesses. Past campaigns have benefited charities Food For Free and Cambridge Housing Assistance Fund (CHAF).
About On The Rise
On The Rise is an organization that offers a safe and welcoming community to homeless women in our local area. The organization offers resources to the most in-need women in our community, and aims to move them out of homelessness, and empower them to improve their lives.
About Cambridge Local First
Cambridge Local First (CLF) is a network of locally owned and independent businesses formed in October 2005. The organization is aimed at building a strong Cambridge economy and a vibrant community. CLF pursues this mission by raising the awareness of consumers about the benefits of buying local, bringing together local independent businesses for mutual benefit and networking opportunities, and supporting Cambridge ordinances and regulations that promote locally owned businesses.
Think Local, Thank Local will run for one week, from November 23rd (Plaid Friday) through November 30th. For a list of participating local businesses, visit the official event website.