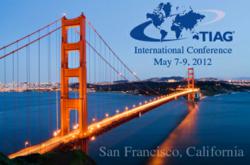 Given the fallout from the Madoff scandal and other high profile cases, it clear that firms need to be vigilant about uncovering the many ways businesses can be taken advantage of by fraudulent schemes
St. Petersburg, FL (PRWEB) April 27, 2012
The International Accounting Group (TIAG) will host its 17th international conference in San Francisco for its members on May 7-9, 2012. Among the topics will be a panel discussion titled Fraud Protection and Detection. Experts from the United States Federal Bureau of Investigation (FBI), TIAG accounting firms and a lawyer from TIAG's sister legal alliance, TAGLaw®, will discuss experiences they have had in how businesses can prevent fraud and how, after the fact, they can recover funds wrongfully taken. TAGLaw, TIAG's sister alliance of independent law firms, will be holding its 27th international conference in parallel at The Four Seasons Hotel, and the two alliances will hold joint sessions on the third day of conference.
"Given the fallout from the Madoff scandal and other high profile cases, it clear that firms need to be vigilant about uncovering the many ways businesses can be taken advantage of by fraudulent schemes TIAG's President, Bob Sattin, "and we are pleased to have a member of the Federal Bureau of Investigation, as well as our experienced TIAG and TAGLaw members, show us how accountants can protect their clients from fraud."
In addition to the fraud panel, TIAG members from around the world will also discuss management and business development issues with Jeff Pawlow, the CEO of iShade, a social networking site for accountants. Jeff Pawlow is one of the most highly respected and innovative executives serving the accounting industry, and he will talk with members about the evolution of compensation practices, as well as how to optimize your online presence to serve existing clients and attract new ones.
About TIAG:
Founded in 2003, TIAG is an international alliance of high quality, independent accounting firms. Combined with TAGLaw, an alliance of independent law firms, they provide professional accounting, financial and legal services on a worldwide scale. With approximately 8,000 professionals in over 260 member firms, and more than 500 offices in over 90 countries, the two alliances serve tens of thousands of clients from all industry and commercial sectors.
TIAG Contact Information:
Joe Farrell, Executive Director
The Appleton Group, Inc.
Phone: + 1 727 895 3720
Email: joe(at)TIAGnet(dot)com