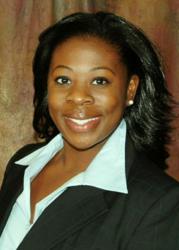 I am a person not confined by walls.
Houston, TX (PRWEB) April 23, 2012
The Houston Business Journal has selected Tiffany Curry as one of its 40 Under 40, an awards program that identifies 40 outstanding business leaders under the age of 40 who are key industry leaders in their business and in the community. "The world is watching Houston, America's model city," commented Curry. "I am truly honored to be included in this influential group. Houston is a global leader in energy, healthcare, entrepreneurship, and academia. I am inspired to represent Houston's finest. I am truly blessed. I am a person not confined by walls."
Curry's distinctions in real estate and business are impressive.
Curry was recently awarded 2011 REALTOR® of the Year by the Houston Association of REALTORS®, the second largest real estate association in the nation with over 25,000 members. She was the youngest recipient in the history of the award. "The 2011 REALTOR® of the Year award was a career-defining moment and reinforced my high aspirations and my unwavering commitment to excellence," Curry said.
A native Houstonian, Curry is one of the country's most experienced members of the Institute for Luxury Home Marketing (specialization in the marketing of Luxury Homes). She is one of less than 1,000 REALTORS® in the state of Texas to hold the Certified Negotiation Expert Designation. A Relocation Specialist for major corporations, Curry is uniquely accomplished, as she holds all three Relocation Certifications in Destination Services for buyers, as well as Marketing Assistance and Relocation Inventory for Sellers.
In 2010 Curry was selected as Nextgen Realtor Group's inaugural 20 Under 40 Rising Stars in Real Estate, which recognized young professionals excelling in sales, leadership and the community service. In 2009 she was named Entrepreneur of the Year by the Women's Council of REALTORS®.
In addition to her career milestones, Curry is dedicated and loyal to the community. She is a firm believer of paying it forward. "A community cannot flourish without the support of the people in it. It's great to receive; however, it's more important to give."
In 2012 Curry served as Chair for "The BIG e", the largest annual one-day member conference produced by the Houston Association of REALTORS®; she was the youngest Chair to lead the event. Additionally, she is Past Chair of the Nextgen Realtor Group (NRG) Houston Young Professionals Network and Past President of the Women's Council of REALTORS® Houston Chapter.
Curry is a proud graduate of Texas Southern University, where she earned a Bachelor of Business Administration. She is a supporter of the Susan G. Komen Breast Cancer Foundation, Houston SPCA and Rebuilding Together Houston.
Add Tiffany Curry to the list of Houston's esteemed business class.
For more information, please contact Tiffany Curry directly:
(713) 208-4862 or Tiffany(at)TiffanyCurry(dot)com