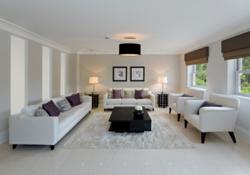 Manchester, NH (PRWEB) March 12, 2012
Carpet One Floor & Home knows that today's families want a beautiful, modern home that is comfortable for the entire family and holds up to an active lifestyle. With exceptional strength and ultimate softness, Tigressá™ SoftStyle keeps performing year after year to instill more pride in your home.
These three rooms accomplish the modern look while maintaining comfort and with some smart purchases, they will stay beautiful for many years to come.
Light and Airy
Crisp white and clean lines are the epitome of modern but many families shy away from white because they fear the stains and dirt will quickly ruin the look. The key to a pulling together a family friendly room in white is a slip-covered sofa. Slip covers in durable canvas or brushed cotton are easily washed and bleachable. Many white sofas are even sold with slip covered that are custom fitted to the piece of furniture so you don't have to worry about them looking sloppy.
The floor is another area where the fear of stains results in beige or tan. With today's technologies, you can purchase a stain-resistant floor in any color you want – like Tigressa Softstyle's World of Softness II in Prom Dress. This creates a sleek modern look that is stain-resistant and due to Tigressa's unique fiber construction, you don't have to worry about crushing or matting either.
Finish off a light and airy room with some functional furniture. Ottomans and coffee tables with storage are a must for storing books and games so you can keep the room looking clean and crisp. Black and white photos are a great way to personalize the room – mix some black and white versions of family photos with some larger pieces. See more Light & Airy Modern inspiration on Pinterest.
Mid-Century Modern
Bright white is not for everyone. Modern design opens up the opportunity to use different shapes and colors than those traditionally used for décor. Neutral browns and tans create a great backdrop for funky shapes and colors without distracting from the design. Balance a unique piece of furniture with a simple black couch or chair. Geometric patters on fabrics and walls give a modern vibe to the room.
Accessorize a mid-century modern room with sleek modern lamps and large scale graphic prints. This modern room is a comfortable place for the whole family. See more Mid-Century Modern inspiration on Pinterest.
Casual Modern
For a modern living room that is everyone's favorite hangout, casual and comfortable are the primary focus. A large sectional sofa with modern lines provides lots of room for the entire family and friends. A cream or neutral color is a little more relaxed than bright white but still fresh and clean.
A great option for flooring in a modern room is a light colored hardwood or laminate. But for a comfortable family living room, a cozy area rug is always a good idea.
A bound piece or Tigressa SoftStyle's Chic N Soft in Cloudy Violet and a few amethyst pillows provide the perfect pop of color. Amethyst is a great accent color that is new and modern but not overly bright. Keep accent furniture and accessories simple and modern by sticking with glass and chrome. See more Casual Modern inspiration on Pinterest.
A modern room is a great option for families that like clean, straight lines and simple, clutter-free rooms. With today's versatile furniture, stain-resistant fabrics and flooring that stands up to a busy family, achieving a modern look that works for a family is more realistic then ever.
The Tigressá Tales and Sales event runs from March 1st through April 15th. For more information on Tigressá SoftStyle and to find a Carpet One Floor & Home store near you, visit [http://www.TigressaTales.com.
About Carpet One Floor & Home
Carpet One Floor & Home (http://www.CarpetOne.com) is North America's leading floor covering retailer, with more than 1,000 independently owned and operated locations in the United States, Canada, Australia, and New Zealand. Carpet One Floor & Home stores are known for a broad selection of carpet, wood, laminate, ceramic, vinyl, and area rugs, including exclusive brands like Bigelow and Lees. They offer a unique customer experience with the exclusive SelectAFloor merchandising system that simplifies the shopping experience and The Beautiful GuaranteeTM, which guarantees that the customer will be 100% happy with their floor.