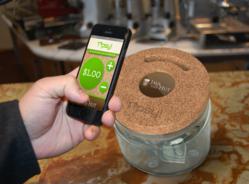 "We want to be ready for a world without cash. We saw the economic and social implications of electronic payments on tipping during our own trips to the coffee shop, and knew there had to be a better way."

-- Lisa Yanz, Product Designer at PDT
Chicago, IL (PRWEB) November 29, 2012
Today product design firm PDT took a step forward in responding to a growing problem – how to leave a tip for a job well done when fewer people are carrying cash. With more stores supporting gift cards, credit card payments and mobile payment apps, neighborhood baristas and other service providers are suffering the consequences.
Enter Tipsy!™, a conceptual project from PDT, born from the company's ongoing internal drive to uncover innovation opportunities. Tipsy!™ looks like a classic tip jar, but the eco-friendly cork top houses a smartphone that receives tips electronically.
A customer with a smartphone automatically locates the establishment through GPS using the Tipsy! app, selects the amount of the tip, then bumps the phone to the cork lid to submit. Tipsy!™ means customers can safely leave tips over a secure web connection, whether wired, Wi-Fi or cellular.
In the United States, only about 7 percent of transactions are done with cash. For those with cash on hand, Tipsy!™ also has a slot for tipping with coins and bills.
"We want to be ready for a world without cash," said Lisa Yanz, product designer at PDT. "As product designers, we try to understand how our changing economy affects the way people work, shop and play. We saw the economic and social implications of electronic payments on tipping during our own trips to the coffee shop, and knew there had to be a better way."
Tipsy!™ is designed to be compatible with all current and next generation smartphones:

Passbook for iOS devices is available for any merchant using Passbook. Customers can launch the establishment's Tipsy!™ screen from the lock screen, select an amount, and confirm payment by bumping the Tipsy!™ cork lid with their phone.
A companion Near Field Communication (NFC) antenna, attached to the headphone jack of the Tipsy!™ jar's smartphone, means customers with supported Android phones or NFC-enabled phones can tap their phone to the Tipsy!™ cork lid to launch the app for the current location.
Tipsy!™ has Universal App compatibility for iOS, Android, Blackberry, and Windows Phone platforms.
With Tipsy!™, merchants get a secure, redundant anti-theft system through a smart data/charging cable, in addition to GPS alerts. And to make sure a customer's tip doesn't go unnoticed, Tipsy!™ jingles (as though coins were dropped into the glass jar) through its smartphone speaker. Optional social networking features allow customers to "check in" and share their satisfaction with the service at their favorite places. Merchants can even customize the tipping interface with their branding or loyalty programs to extend the experience.
Tipsy!™ came about as part of the ideation process PDT uses every day on products like medical devices, defense products and consumer goods. While it isn't currently available for purchase, the team designed this concept to smoothly move from the drawing board to your favorite coffeehouse soon.
Product Development Technologies, Inc. (PDT) is a global, full-service product development firm with 130 employees in eight offices worldwide. Team members have expertise in a wide range of product development disciplines, including strategy, scouting, design research, industrial design, user experience development, mechanical and electrical engineering, software development and sourcing. PDT's award winning product designs have been recognized with over 55 awards from authorities such as BusinessWeek, Fast Company, the Industrial Designers Society of America and The Consumer Electronics Association.