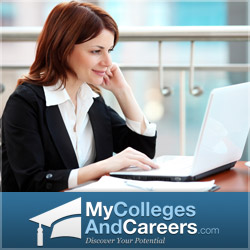 All of the individuals in the top 1 percent, almost without exception, have completed their college education.
Provo, UT (PRWEB) January 26, 2012
On January 20th, The New York Times released a list of the most common college degrees held by those in the top 1 percent. With the recent surge in news about protests from the 99 percent, it is interesting to learn why and how just 1 percent of the nation hold nearly 40 percent of the country's wealth. Important to note is that all of the individuals in the top 1 percent, almost without exception, have completed a college education. Whether it's biology, economics, or zoology, My Colleges and Careers can help individuals find online colleges that offer distance learning in that degree field.
According to the New York Times report, the top five degrees for those in the 1 percent are, in order: pre-med, economics, biochemistry, zoology, and biology. For most, the pre-med major isn't a surprise. Medical doctors are some of the highest paid professionals in the country. However, what may surprise many is the number of science-based degrees that can earn a spot in the top 1 percent. Breaking down the data, 11.8 percent of individuals with a pre-med degree will reach the 1 percent. This is followed by 8.2 percent of economics majors, 7.2 percent of biochemistry majors, 6.9 percent of zoology majors, and 6.7 percent of biology majors. My Colleges and Careers understands the importance of a college education for the future of all individuals. This is why the services and tools on the My Colleges and Careers website are designed to connect individuals with online universities where they can earn an accredited online college degree.
The work required to earn a college degree is significant. This is in addition to the many expenses associated with higher education. Online courses are one of the best ways for individuals in the lower economic classes to complete their education. Technology will allow them to fix their own schedule for school work, reduce costs, and to get a high-quality education. All of the resources located on the My Colleges and Careers website have been designed with the intention of guiding individuals towards online institutions that offer degrees in their field of interest. This can include any of the degrees mentioned above, such as those in the health care industry.
Additional website features that might prove helpful for education-seekersl are job descriptions, explanations of salaries for various careers, blog articles from industry experts, and useful infographics. No matter which field a student chooses to pursue, having completed an online degree program will prove invaluable. It will also give them the best opportunity to improve their economic situation and style of life for themselves and their family.
About My Colleges and Careers
My Colleges and Careers is dedicated to helping students and prospective students earn their college degrees through online degree programs. Considering that most students have other responsibilities and commitments, My Colleges and Careers can become a great resource for those seeking a way to fit school into an already busy schedule. Through online programs, students can complete their schooling at their own pace. The tools and services offered on the My Colleges and Careers website have already assisted many students in completing their education and starting a successful career.
###